As we Northern Hemispherers enter the heart of summertime, with outdoor adventures ever beckoning, this time of year is also a period of peak buzz for gamers. Video game companies finally reveal their hands for what blockbuster titles they have in store for the fall and holiday season. Board game publishers announce their headline releases for the biggest conventions of the year. After what frequently feels like a long winter and spring drought, the hype train finally pulls into station, welcoming all aboard once more.
Those who know me know that I'll happily board such trains. And when opportunity presents itself, I won't hesitate to put on my conductor hat and fuel the engines that carry us onward to thrilling horizons.
We kicked off this year with an article featuring My Most Anticipated Board Games of 2021… twenty games highlighted and hyped, many of which we've now had the pleasure of playing. Few have disappointed, and many more will find their way to the table very soon. Meanwhile, a whole extra batch of games have been surfacing from the deep unknown sea, landing a spot on my ever growing wishlist.
Due to their striking presentations, intriguing mechanisms, thrilling promises, and/or reliable creators, the following fifteen games have earned a place onto my most anticipated games of 2021 part II:
---
Bear Raid
Expected Release: November 2021
Hot new designer, Ryan Courtney, returns with another promising game in Bear Raid. Here we see players buying, selling, shorting, and manipulating stocks in competition for the biggest payoff. Under the steady hand of publisher Board Game Tables, we're sure to see a solid production with what appears to be the perfect choice of an artist in Nick Nazzaro. The psychedelic colors and animals seem to hint at the bitey gameplay lurking beneath. For some reason, Bear Raid reminds me of cutthroat auctioning game, The Estates, and I'm all for it.
---
Savannah Park
Expected Release: September 2021
In what feels to be a hybrid between Tiny Towns and Calico, the makers of 2020's Renature are back for another clever family game featuring plants and animals. In Savannah Park, each player gets their own set of animal tiles with a savannah board, but the starting layout of each player's board will be random and unique.
On your turn, you select a specific tile to move to an empty space on your board, flipping it facedown to never be moved again. The catch is that whichever tile you select on your board must also be permanently moved on your opponents' boards. So even if I don't want to move my triple giraffe yet, if that's the tile you call out on your turn, that's the tile I have to permanently reposition now.
By grouping species together, protecting them from wildfires, and giving herds more watering holes, you'll maximize your score at the end of the game. Under the steady hand of designers Wolfgang Kramer (Renature, El Grande) and Michael Kiesling (Renature, Azul), Savannah Park is likely to be a hit for gamers of all ages.
---
Factory Funner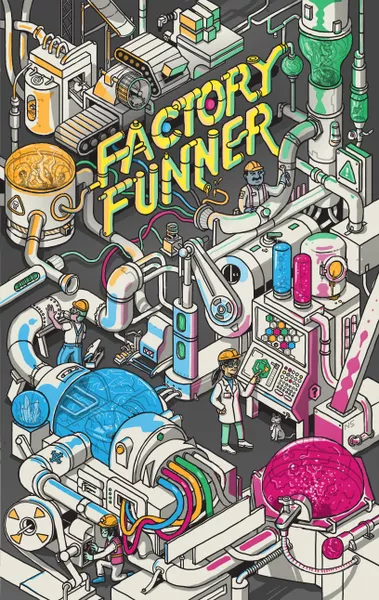 Expected Release: November 2021
Perhaps in a similar vein to industry darling, Galaxy Trucker, Factory Funner features real-time tile drafting combined with spatial puzzling across personal player boards. Players are seeking to efficiently install machines and estabilish connections from machine to machine and machine to reservoir. Machines generate revenue, but connections and reservoirs cost money, and money is your points, so efficient spacial arrangements are critical to success. The player who analyzes the machine options fastest, snatches the best ones for themself first, and arranges them on their board most efficiently will become the champion. It looks like a crunchy hoot! Plus, this is just a nice looking makeover that Board Game Tables has given the production.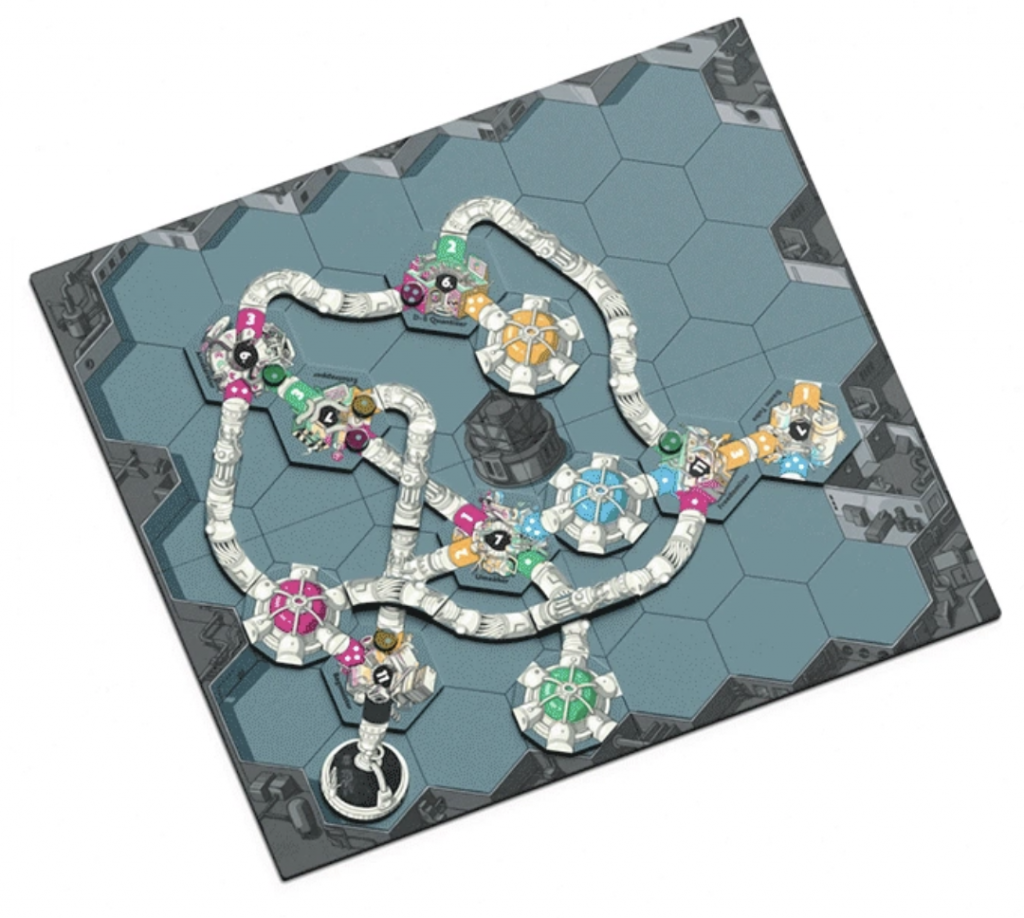 ---
The Great Zimbabwe
Expected Release: July/August 2021
Alright, this isn't exactly a 2021 release, but it is a fresh 2021 printing of an extremely difficult to find classic from legendary publisher, Splotter. Rather than microwaving your brain with the speedy spatiality of Factory Funner, why not slow roast it in the heavy, strategic Great Zimbabwe?
This one is described as a "logistic-economic game in which players are tribal leaders in Africa trying to please the gods by building monuments." It features a central, highly interactive board of building and developing monuments, bidding with cow tokens to manipulate turn order, and logistical optimization to deliver goods from craftsmen. Players can also receive aid from gods to evolve their abilities, but doing so increases your personal victory threshold! So do you summon the great powers that be in hopes of a snowballing economy, or lunge for the easier victory before opponents can get their engine going?
---
Ghosts of Christmas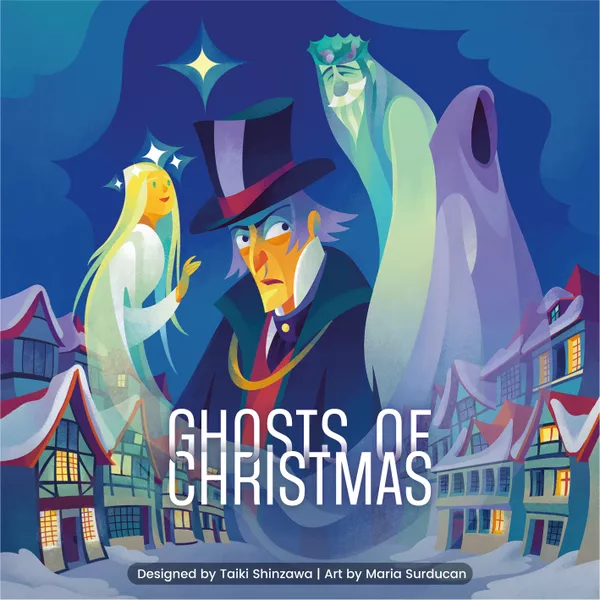 Expected Release: November 2021
I've encountered many interesting trick taking games over the past few years, but that didn't stop Ghosts of Christmas from catching my attention with its fascinating premise.
Themed after the classic Charles Dickens story, A Christmas Carol, tricks can be played into the past, present, or future. What does this mean? Tricks can be played out of order and won't be resolved until the past, present, and future tricks (3 total) are all played. I can choose to play a card into the future, but the winning suit of that trick will be determined by the winner of the present trick, which may not even have any cards in it yet.
Ghosts of Christmas sounds all kinds of trippy, and I'm eager to give it a go.
---
The Siege of Runedar
Expected Release: September? 2021
You might as well call this one Reiner Knizia's Ghost Stories: A Deck Building Game. You also might as well call The Siege of Runedar my most anticipated game on this entire list.
With The Quest for El Dorado, Dr. Knizia has proven his mastery of the deck-building genre. With The Lord of the Rings, Reiner brought cooperative games into the limelight. And with My City, the good doctor has made me a believer that low-interaction games can earn a spot among my all-time favorites.
So despite my preference toward competitive games… Despite me selling away my copy of Ghost Stories after getting my fill from only five plays… Despite the endless onslaught of deck-building games offering me diminishing returns on enjoyment (aside from Undaunted, Fort, and El Dorado)…. The mere concept of this game being helmed by one of my favorite designers has me salivating for the possibilities. This being playable at four players all the way down to one almost feels like uncharted territory for Knizia Games.
Here, players are brave dwarves who must stave off orcs, goblins, and trolls by upgrading and utilizing their weapons and tools long enough to escape with their newfound treasure through a tunnel-in-progress. Featuring lively illustrations by popular artist Andrew Bosley (Everdell, Tapestry) and an ambitious production from Ludonova, I think we're in for a real treat with this one.
---
Juicy Fruits
Expected Release: July 2021
You could accurately describe most new games coming from Capstone as "juicy," but this one is especially so. This is the other (and earlier) colorful title quickly coming at us from Capstone's family brand and their publishing partner Deep Print Games. All you need to know is that it features a big pile of wooden fruit tokens and ice cream tiles on a tropical island. Enjoy!
But if you insist on a little more explanation for why it deserves a spot among my hotly anticipated games, Juicy Fruits possess an interesting challenge of picking a tile on your board and sliding it in one direction, collecting the matching fruit for each space moved. Once a particular boat on your island board is satisfied with the fruit you've collected, you can fulfill their order and send them on their merry way, clearing up even more room for you to slide tiles and collect fruit. That's only one half of the balancing act, as you and your opponents will be claiming precious business tiles as well, but clogging up your island to do so.
---
Radlands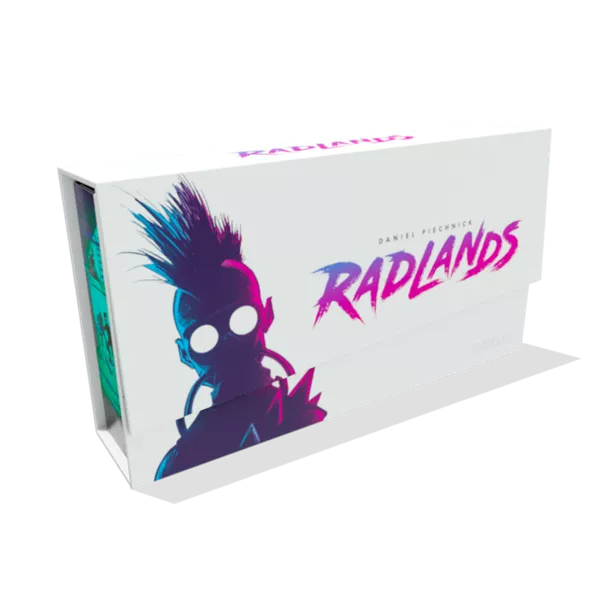 Expected Release: September 2021
The only Roxley game I've tried and truly loved is Brass Birmingham, but it's hard to resist the production quality of Radlands, especially when Dan Thurot (Space Biff) has given the gameplay very high marks. This 1v1 dueling game takes some inspiration from popular systems such as Magic: The Gathering. Only Radlands features all of its psychedelic, colorful, post-apocalyptic gameplay within a single, contained packaged. There's no eternal black hole of endless packs to toss your money into here… it's a one-and-done purchase that provides a highly replayable, streamlined experience.
Multi-use cards, tight resources, and tense dueling within this 20-40 minute game ensure that a one-play session will rarely be enough.
---
Super Skill Pinball: Ramp it Up!
Expected Release: Summer-Fall 2021
While roll & writes have been leaving my collection in droves, Super-Skill Pinball lives on in my collection as my favorite of the bunch. Ramp it Up is a standalone sequel perfect for both newcomers and veterans. That's because this one will also feature four new pinball tables to enjoy with varying challenges and complexities.
Gofer Gold introduces an extra flipper and features a log flume. Pin Pals requires coordination between wrestlers across two tables. High Roller Heist features a faster session of executing a casino caper. And Top Speed makes your pinball a racer where you can adjust your speed (the die rolls) for big bonuses, but at the risk of flying past the flippers.
---
Riftforce
Expected Release: September 2021
The final family game coming at us from Capstone this year, Riftforce looks an awful lot like Battle Line / Schotten Totten. Only instead of battling at sites using poker sets, two players start by drafting asymmetric guilds to form their personal deck, then they strive to synergize their cards together to win the battles along the rift.
With ten different guilds to draft from, forming combinations of four each, Riftforce promises a lot of depth to explore within a relatively smooth experience. So smooth, in fact, that Riftforce has already earned a nod as a 2021 Kennerspiel des Jahres Recommended game. It'll have big shoes to fill if it really does play anything like Battle Line / Schotten Totten, but Riftforce already seems to be off to a great start.
---
Oltréé
Expected Release: Fall 2021
I'm still not sure whether Oltréé is my kind of game, but at the very least, I'm anticipating the opportunity to learn more about it. Aside from the gorgeous artwork from industry veteran Vincent Dutrait, what piques my interest is that designer Antoine Bauza (7 Wonders, Takenoko, Ghost Stories) is venturing wayyyyyy outside of his comfort zone on this project that he has spent over SIX YEARS working on.
Based on a French role-playing game, Oltréé is a modular, scenario-based cooperative game where it's purpose is to immerse you in an engaging story as you seek to complete the scenario goals using unique mechanics within a particular scenario. Mr. Bauza has typically been a mechanism-focused designer, and this sounds like a narrative-focused game, so it'll be intriguing to see how this ambitious game turns out.
---
Pipeline: Emerging Markets
Expected Release: Fall 2021
The expansion to Ryan Courtney's oily-slick economic game, Pipeline, is nearly upon us. While the details are sparse, we can safely assume that it will feature more tempting technologies, more crunchy economics, more soul-crushing challenges, and more refreshing variety. Currently, you can expect this to hit stores sometime during the fall convention season.
---
Witchstone
Expected Release: Summer 2021
With Witchstone, Reiner Knizia has done something we rarely see… specifically collaborate with another designer on a game. Apparently Martino Chiacchiera took inspiration from Knizia's classic abstract design, Ingenious, and approached him with an idea for a more complex Euro featuring Ingenious's hexagonal domino mechanism. They've teamed up to give us this game which will release very soon.
Players place these tiles on their personal board and trigger actions for matching the placed tile with adjacent groups. I've heard several critics now refer to this game as feeling more like a Stefan Feld design than a Reiner Knizia design. Basically every action you take or strategic path you follow will score you points, making this a very point salady affair.
---
Summoner Wars (Second Edition)
Expected Release: July 2021
Summoner Wars (2e) is one of those upcoming games that is far too praised for me to ignore. Space Biff, Shut Up & Sit Down, and Tom Vasel (Dice Tower) all have great things to say about it. Not even the generic theme and dice combat can scare me off from this one, now!
For a 2-player grid-based movement dueling game featuring fantasy creatures, the fact that they've sidestepped the genre trope of chunky miniatures to focus in on the sliding cards catches my interest, as it hints at the priority of the design being smarts rather than spectacle. This second edition features polished gameplay and new art, and it includes six unique factions to choose from.
The object of the game is simple: eliminate your opponent's summoner. Of course that's easier said than done, as your summoner lives up to its name in summoning powerful and useful allies to the board that act as shield and/or spear.
---
Imperial Steam
Expected Release: Fall 2021
Did somebody say Capstone train game? While Iberian Gauge was already covered in part one of my most anticipated games of 2021, it turns out Capstone had another train game up their sleeve.
Alexander Huemer, the designer of Capstone's complex Lignum, is the creative mind behind this economic rail game known as Imperial Steam. While deeply strategic, it seems as though Imperial Steam is much more accessible than Huemer's previous design, according to the publisher description.
Imperial Steam promises fierce competition throughout and two unique game-ending rules with their own scoring steps. Hopefully we have another winner on our hands from team Capstone.
---
One More Thing to Hotly Anticipate…
Speaking of exciting new games, we at Bitewing Games are anxiously awaiting the chance to share with you Reiner Knizia's Criminal Capers Collection! This Kickstarter bundle, launching August 2021, will feature Soda Smugglers, Pumafiosi, and Hot Lead.
We need your help in crowdfunding this killer filler bundle! Subscribe to the Bitewing Games newsletter so you don't miss out on these excellent card games.
---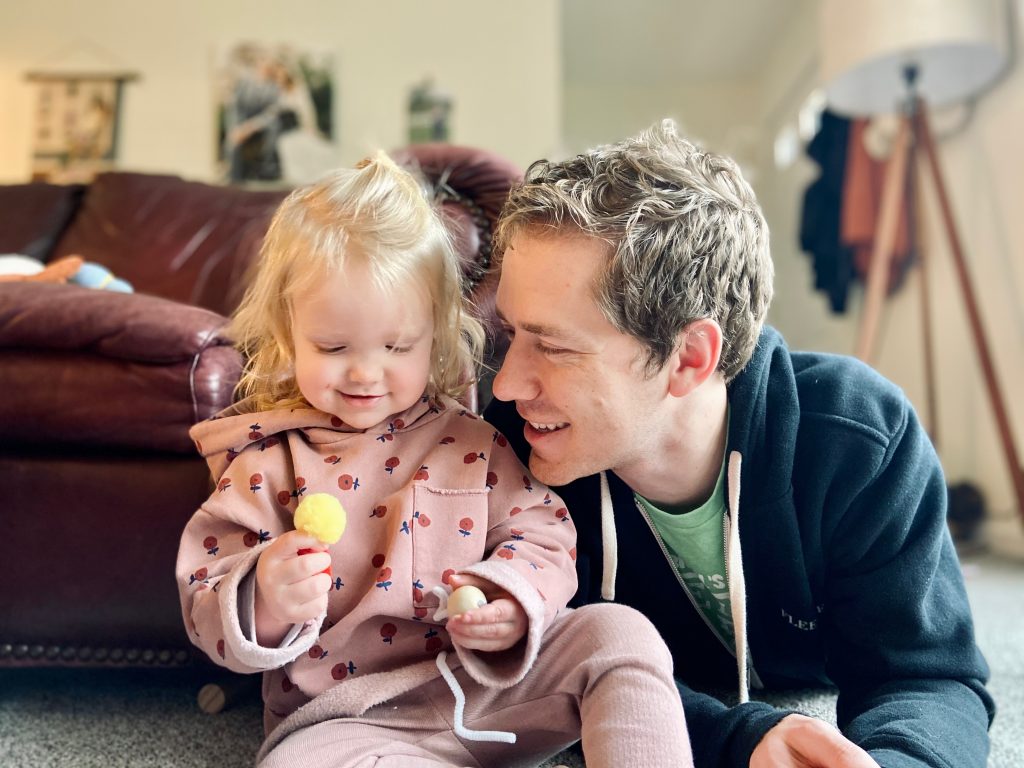 Article written by Nick Murray. Outside of practicing dentistry part-time, Nick has devoted his remaining work-time to collaborating with the world's best designers, illustrators, and creators in producing classy board games that bite. He hopes you'll join Bitewing Games in their quest to create and share experiences that, much like a bitewing x-ray, provide a unique perspective and refreshing interaction.