With 2023 now upon us, I've been digging through the board game news piles of the internet to uncover the thrilling releases coming our way. This search has led me to 27 titles which show great promise (including 3 of our own upcoming publications). Let's explore my most anticipated board games of 2023!
---
Horseless Carriage
Expected Release Date: Q1 2023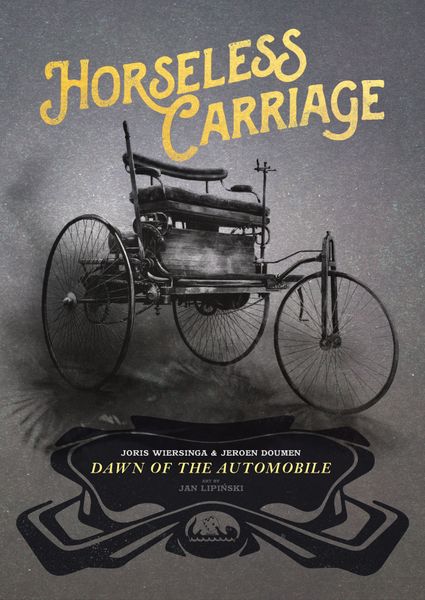 Those looking to scratch that 3-hour, meaty strategy game itch won't have to wait too long, as Horseless Carriage is reportedly arriving at fulfillment warehouses soon. Set in the dawn of the automobile industry, players compete to build, market, and sell these horseless carriages. Will you take the trouble to include safety features like brakes, or will you cut corners on your race to wealth and success?
Why it's exciting:
It's been 8 years since publisher Splotter Spellen gave us an entirely new game, and that one ended up being their most popular title — Food Chain Magnate. Horseless Carriage has big shoes to fill, but we can at least trust that it will be uniquely Splotter — meaning quirky, deep, and punishing.
---
Age of Steam Deluxe Expansions Volumes II & III
Expected Release Date: March 2023
These expansion Volumes II & III contain maps that have not been published with the Deluxe esthetic, as well as some maps which have never been published in any form. These maps serve a variety of group sizes and play styles, from small player counts to large and casual play styles to cutthroat.
Why it's exciting:
Age of Steam is one of few games to have its very own convention. The underlying foundation of tense auctions, tight turn orders, cutthroat route building, and scarce pick up and deliveries lends itself incredibly well to an infinite variety of maps with custom rules. Age of Steam fans like myself will find much to explore including wonky maps like Disco Inferno or Lincoln Funeral Car.
---
Ra
Expected Release Date: April 2023
The Reinerssance is alive and well, my friends, and Ra is the first of many killer Knizia games to be released this year. If you were a more self-restrained person (unlike me) who only owned 10 or even 5 Knizia games, then I would suggest that Ra deserves a place on your painfully restrictive shelf. Of course, once you've tried 5 barn-burner Knizias, it's hard to stop there. 😉
Why it's exciting:
I had the privilege of playing an early prototype copy of this new edition of Ra by 25th Century Games. There is no doubt in my mind that this is a masterclass production worthy of its masterpiece design. Check out my full preview to see why Ra is the greatest auctioning game of all time.
---
Mille Fiori: Die Meisterwerke (Expansion)
Expected Release Date: March 2023 (German), Late 2023? (English)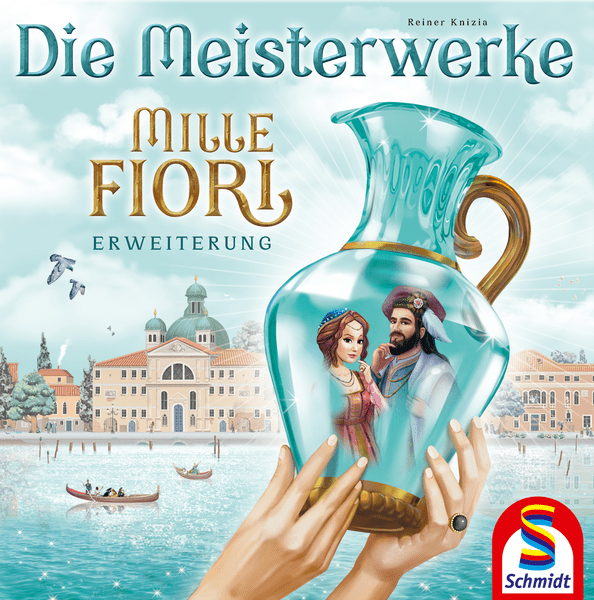 One of Knizia's best new games of recent years, Mille Fiori, is getting an expansion! Not much is known about this one yet aside from the game description which tells of an extended sea track for ships to travel, 9 masterpieces that can be gathered, and new types of cards that bring points, changed movements, or a different order of play.
Why it's exciting:
Mille Fiori itself has had a slow roll-out, with the German edition being released in 2021 and the English edition taking a while to find a home in publisher Devir games who has been working to release it in the US this month. But for those of us who imported or received early copies, it has been a hit! I maintain that this is one of the best point-salad games thanks to the bitey interaction, breezy pacing, and delicious combos by Dr. Knizia. I look forward to whatever he's cooked up next for this experience.
---
My Island
Expected Release Date: 2023?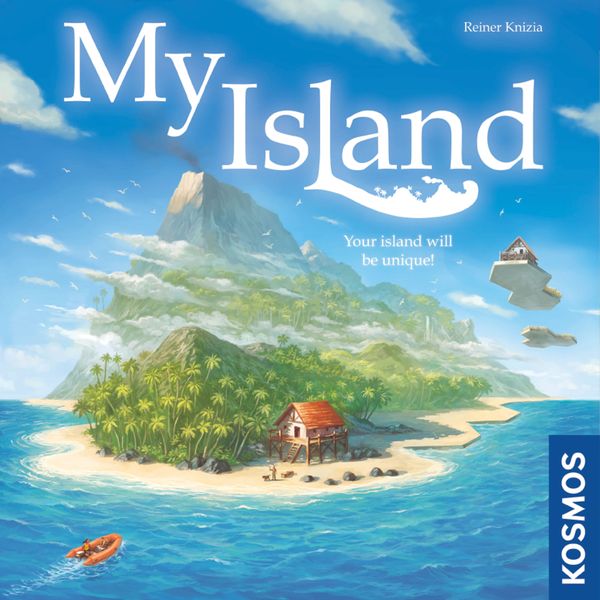 It seems that publisher Kosmos played their hand a little too early. Having announced My Island over 9 months ago and now delaying it from 2022 to 2023. And that's only for the German version. Those waiting for an English or other language version may have to wait up to an additional year (if Kosmos's complete silence on the release date is any indicator). I've seen some Kosmos titles, Switch & Signal being one notable example, take roughly 18 months to release in other languages besides German. Apparently the giants of the industry can only move at a snail's pace. But there may be hope for us yet, as My Island has recently started popping up on North American retail websites for preorder.
Why it's exciting:
Whenever it does finally reach our continent (assuming we're all still alive then), My Island will undoubtedly hit the spot as a puzzly, hexagonal, polyomino legacy game. I still maintain that its predecessor, My City, is the best legacy game and best polyomino game in the industry. Even after 24 plays through its addicting campaign, I'm still hungry for more of this Knizia goodness.
---
My City: Roll & Build
Expected Release Date: 2023 English Release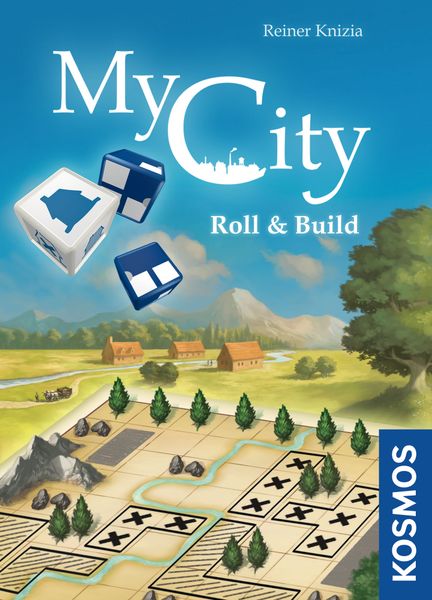 For those of us who are left in limbo by the vague schedule details of Kosmos, we at least have an officially confirmed English version of My City: Roll & Build to look forward to.
Why it's exciting:
From my plays of Lost Cities: Roll & Write and Space Worm, Reiner Knizia has proven that roll & writes can be interesting and interactive. To be honest, My City already had a roll & write vibe to it (although the dice rolling and pad writing were replaced with card flipping and tile filling). With My City surprising me as one of my favorite Knizia releases of the past few years, I'm eager to explore this spinoff design.
---
Pueblo
Expected Release Date: May 2023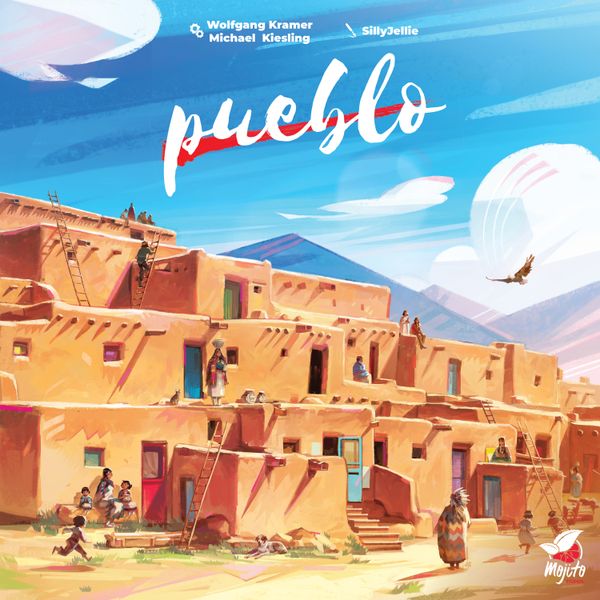 While entirely new designs are thrilling, and spinoffs, sequels, or expansions to existing favorites are hotly anticipated, I find that I get just as hyped for hidden gems that make a triumphant return to production. Pueblo by veterans Wolfgang Kramer and Michael Kiesling is one such title that I've yet to play, and the gorgeous new edition by Mojito Studios looks like the perfect opportunity to do so.
Why it's exciting:
Pueblo is a highly interactive spatial puzzle where players add their chunky Tetris-like blocks to the central board and avoid letting their color be seen from the moving chieftain's perspective. I've never seen anything quite like it — so I'll be eager to dive into my copy when it delivers to backers.
---
Pollen
Expected Release Date: May 2023
Speaking of hidden gems making a triumphant return, Pollen was once published as Samurai: The Card Game where it was doomed to live in the shadow of the all-time great — Samurai. That, and the fact that it was such a table hog with its sprawling cards, meant that it never really took off.
Why its exciting:
Reiner Knizia knows how to make an engaging card game, and Pollen seems to take the zesty area majority competition of Samurai and condense it down to a quicker, simpler form. The new production here is stunning as well, with vibrant nature illustrations by Beth Sobel and a more compact spread of cards and tokens.
---
Big Top
Expected Release Date: May 2023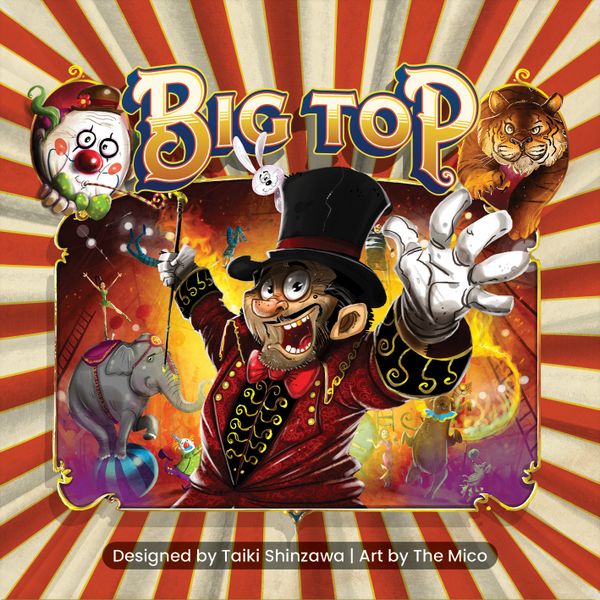 Big Top is another reimplementation that launched alongside Pollen from publisher Allplay (Allplay was formerly known as BoardGameTables.com). This intriguing auctioning game is designed by Taiki Shinzawa (Maskmen, Ghosts of Christmas, 9 Lives) and was only ever published in Japan in 2021.
Why it's exciting:
Taiki is known for making weird stuff, and I'm all about weird games. Big Top has players auctioning off circus acts which the winning bidder adds to their circus. Those act cards show bid numbers that you can cover up whenever you bid that exact number on future cards. Only cards that are fully covered will score points, so there's a wacky connection between winning act cards in auctions and using those acts to bid on more cards. This one is also illustrated by the legendary Mico.
On a related note, I once tried to design a game that featured a circus theme where players recruit new acts and used them in an auctioning competition. Only, the circus acts in my game were used as Ethnos-like abilities rather than bidding restrictions… and I couldn't quite iron out all the kinks in the design. But at any rate, I'm excited to try out Big Top.
---
Skyrise
Expected Release Date: June 2023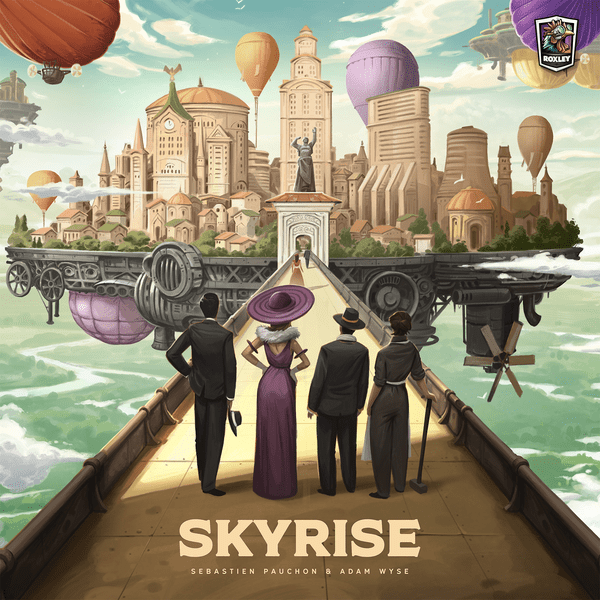 We're certainly on a hot streak of reimplementations on this list. Don't worry, there are plenty more brand new designs to come. But if any publisher is capable of making a worthwhile reimplementation, it is undoubtedly the team behind Brass: Birmingham and Santorini. This evolved iteration of the Spiel Des Jahres recommended Metropolys has players bidding to claim sites and erect skyscrapers.
Why its exciting:
Roxley doesn't joke around with their productions, and Skyrise is no exception. Illustrated by Andrew Bosley and packed with chunky building pieces, Skyrise blends auctions and area majority together into a compelling package. This one promises to be everything I love in a board game: concise, interactive, and elegant.
---
Undaunted: Battle of Britain
Expected Release Date: June 2023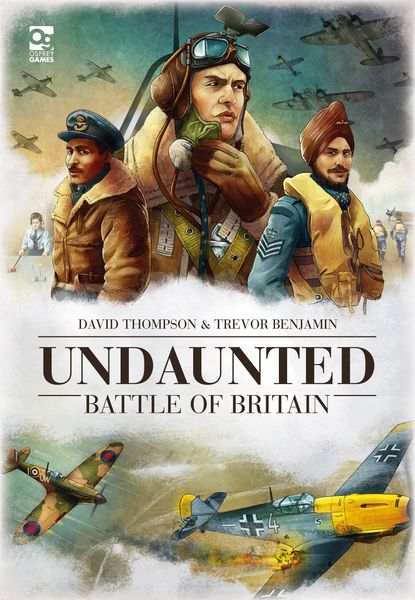 Designers Trevor Benjamin and David Thompson continue their yearly tradition of churning out more content for the Undaunted series. Meanwhile, I continue to fall further and further behind in my plays of Undaunted😆. But that won't stop me from anticipating their next release!
Why it's exciting:
Undaunted is arguably one of the best deck builders out there, and it hasn't gotten old after our many plays of it. Battle of Britain aims to shake up the formula by introducing aerial dogfights to this competitive skirmish system.
---
Trailblazers
Expected Release Date: Q2 2023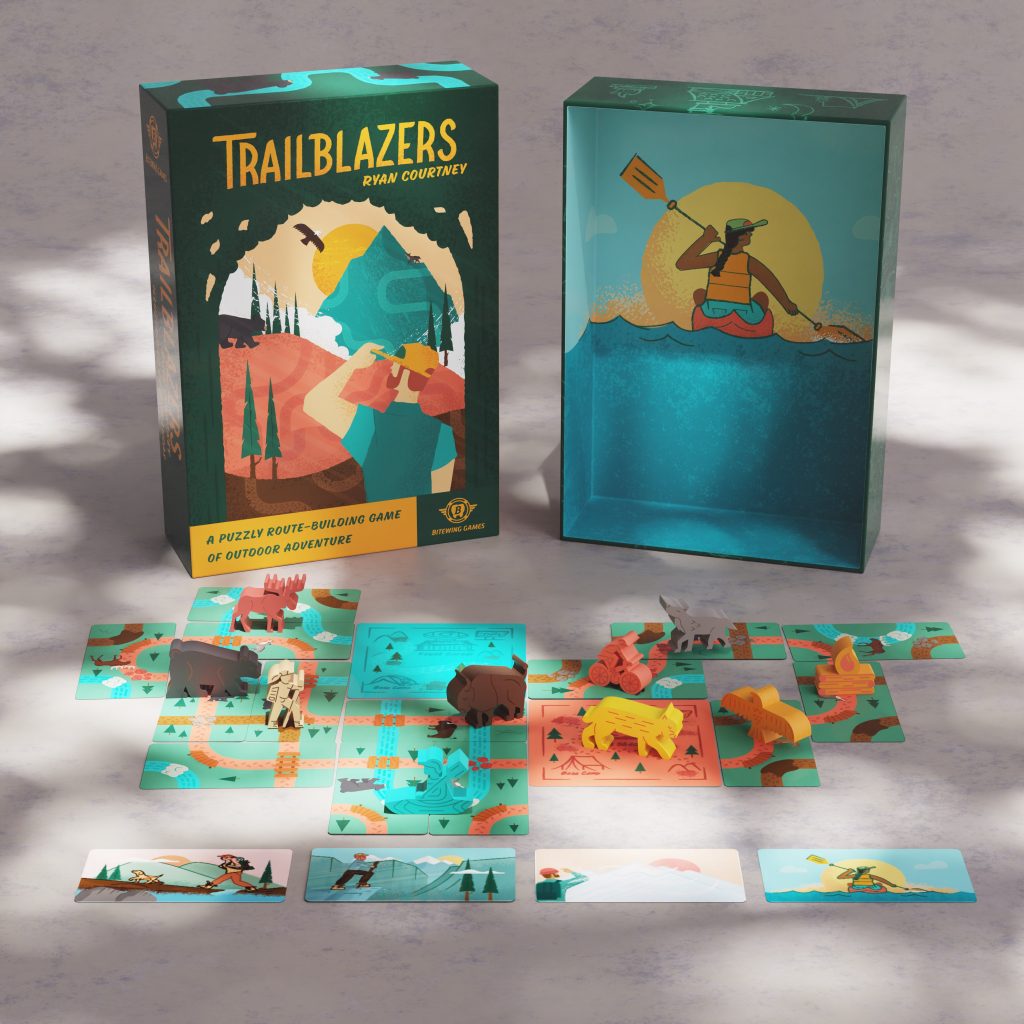 This Ryan Courtney design is coming from yours truly, Bitewing Games. After the humbling success of a 2022 Kickstarter campaign, we can't wait to get this game into everyone's hands. And we've worked hard to provide unique options that suit any preference: a compact Travel edition in a clamshell case, a feature-filled Standard edition which includes all expansion content, and a luxurious Deluxe edition with PVC cards and screen-printed wood.
Why it's exciting:
I've now played Trailblazers over 50 times and can confidently say that this is my favorite spatial puzzler. It provides the challenging depth of any Ryan Courtney design while being surprisingly approachable to learn and play. It has the flexibility to engage me across 3 addicting solo modes and scale all the way up to an epic 8-player game that can be taught and played in only 30 minutes. If you missed our Kickstarter campaign and preorder window, then you can subscribe to the Bitewing Games newsletter to be notified when it goes live on our webstore.
---
Amun-Re: 20th Anniversary Edition
Expected Release Date: Q2 2023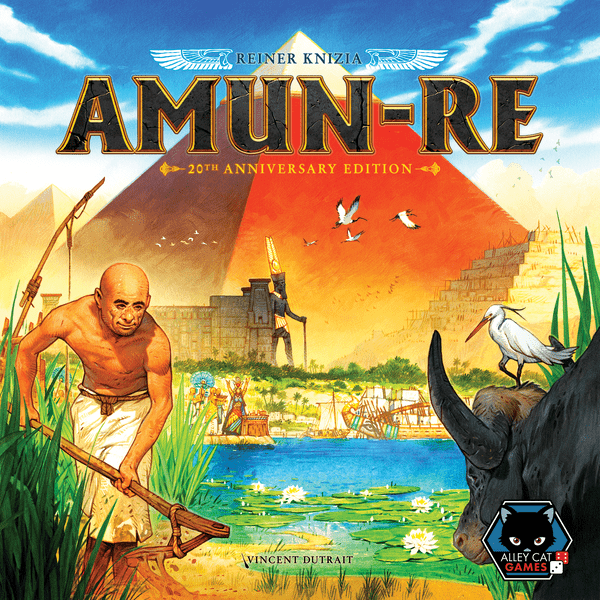 Amun-Re is yet another classic Knizia design making a return in 2023. While it takes place in Egypt and features auctions as the central mechanism, it plays out very differently from its older sibling, Ra. In fact, this might be one of Knizia's longest and most complicated games — particularly once you add in the new expansion modules featured in the 20th Anniversary Edition.
Why it's exciting:
Publisher Alley Cat Games has brought in the big guns — Vincent Dutrait — to give this design a stunning makeover. They've also cooked up 4 expansion modules that introduce asymmetric statues, a Vizier variant that improves the 2-3 player game, and extra layers of strategy in the Afterlife and Pharaoh modules.
---
Beyond the Sun: Leaders of the New Dawn (expansion)
Expected Release Date: Q2 2023 (speculative)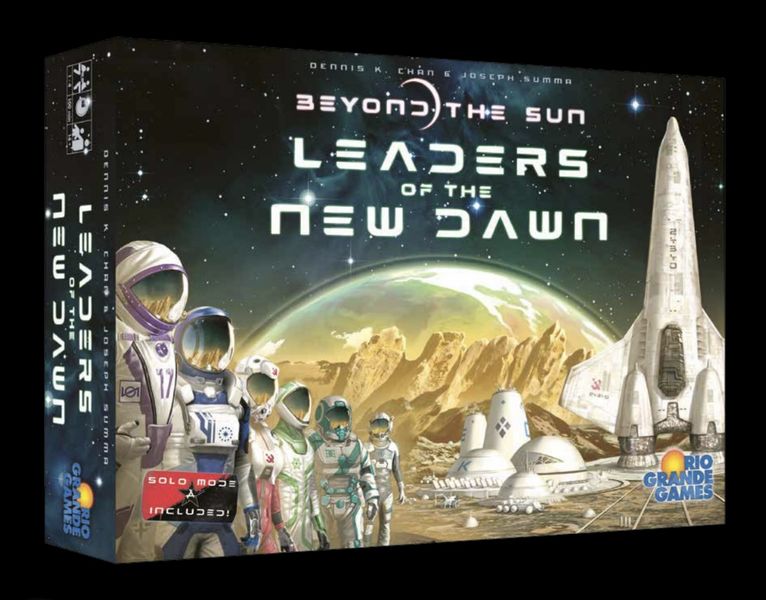 Rumors of a Beyond the Sun expansion have been swirling around for a long time now. Apparently the expansion was complete months ago but has since been slogging through production delays outside of the publisher's control. But I'm feeling optimistic that it'll arrive before the middle of this year.
Why it's exciting:
Beyond the Sun is among the best Eurogames to release in recent years. Climbing the tech tree and competing for control of planets is always an enjoyable time. Word on the street is that this expansion introduces asymmetric leaders, boosts the area control strategy to better balance it against the tech tree strategy, and features a solo mode.
---
Foodie Forest
Expected Release Date: Q3 2023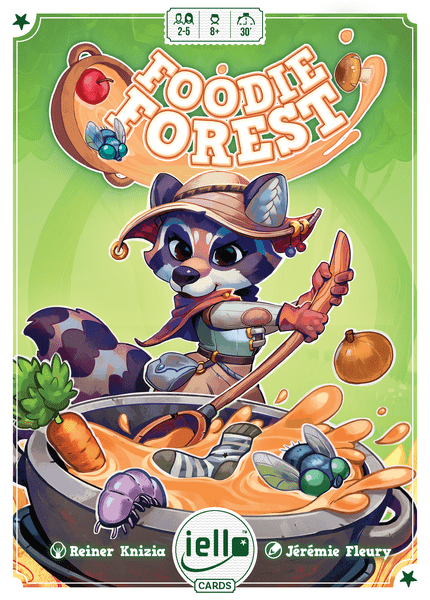 I've gotta continue my yearly tradition of buying at least one trick-taking game, preferably a weird one. And who better to trust this purchase to than Reiner Knizia? Foodie Forest is a trick-taker where players continue to play cards from their hand until the sum total reaches or exceeds 10, and the person who breaks that threshold takes the entire trick of cards, for better or worse. Each round, players look at their new hand and simultaneously select and reveal a specific goal.
Why it's exciting:
Iello has been on a hot streak with Knizia spinoffs and reimplementations lately. Two of the most recent examples being Schotten Totten 2 and Royal Visit — both incredibly satisfying 2-player games with top-notch productions. I'm excited to give this now 20-year-old card game a try and compete to hit my trick-taking goals while sabotaging my opponents' goals.
---
Ninja Master
Expected Release Date: Q3 2023

If Gang of Dice was Knizia's delightful dark horse of 2022, then my money is on Ninja Master being his sneakily fantastic dark horse of 2023. Ninja Master looks like a riot of a real-time item snatching romp. This one comes from Japanese publisher itten, known for cramming a lot of charm in generally small boxes.
Why it's exciting:
I'm generally not a fan of games where the fastest eyes or hands win. Games like Spot It or Wacky Six that test your reflexes tend to get old fast. Ninja Master starts with that premise but throws in a few clever Knizian twists. Rather than simply reward the fastest player and make everyone else feel physically inferior, this game is ripe with hilarious traps. Players are punished for grabbing certain tokens without carefully evaluating the dice results — these dice determine whether each token type gains or loses you points when snatched.
---
Ark Nova: Aquarius
Expected Release Date: Q3 2023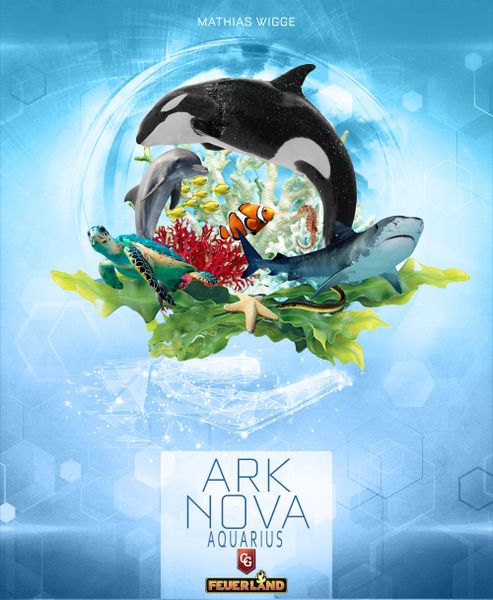 The hottest game of the past few years is soon getting its first expansion, and as expected it will be going the way of the water. After that, we can undoubtedly look forward to the dinosaur expansion coming in 2025. It's simply the path that all successful zoo games must travel.
Why it's exciting:
Aquarius brings an extra heaping of variety for Ark Nova fans to explore. Sea animals are added to the increasingly enormous deck, alternate action cards are up for initial drafting, additional bonus tiles and final scoring cards enter the fray, and more.
---
Galactic Renaissance
Expected Release Date: March 2023 Gamefound Launch, 2024 Release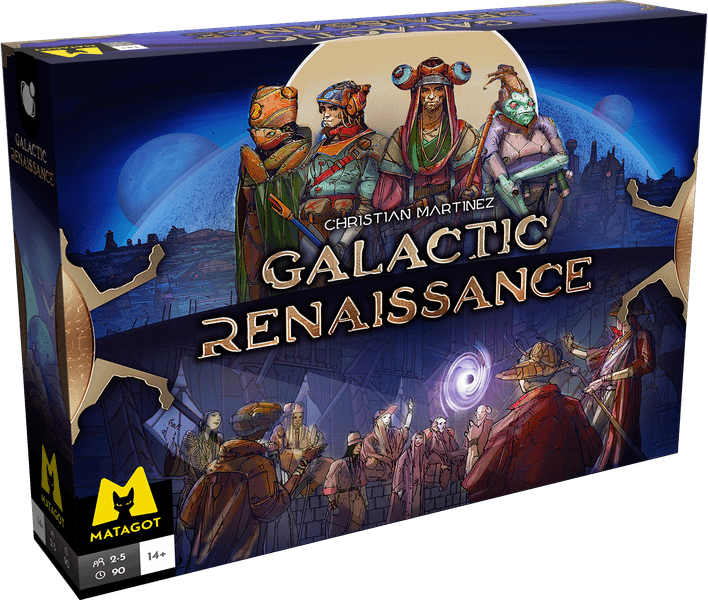 One shouldn't need any more info beyond the title of Galactic Renaissance to take interest in this one. But if you really insist, then Galatic Renaissance is a deck builder of exploring space and gaining political power throughout the galaxy.
Why it's exciting:
For a good while, Inis was my all-time favorite game, and for good reason. The gameplay is tight, the interaction is tense, and the production is gorgeous. So when publisher Matagot announced that Inis designer, Christian Martinez, was working on two more follow-up games to this now-dubbed "Political Trilogy," I couldn't believe my lucky stars. Most importantly, the tradition of epic box covers is kept alive with this artwork by Tano Bonfanti.
---
Huang
Expected Release Date: 2023 KS Launch, 2024 Release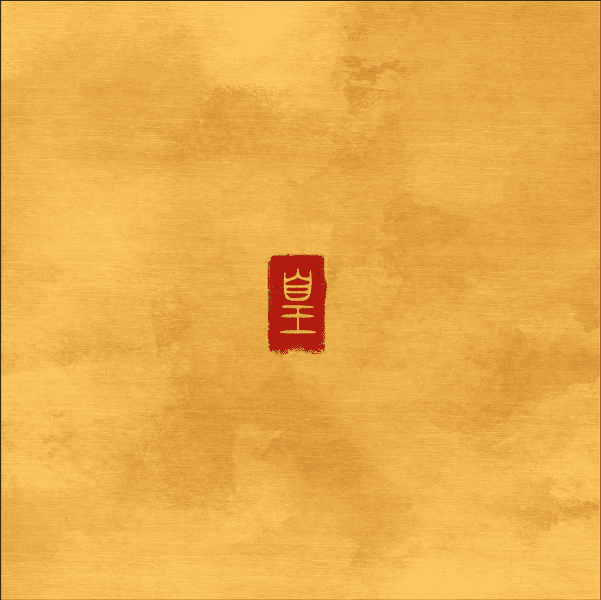 I was lucky enough to secure a copy of Reiner Knizia's masterful Yellow & Yangtze right before the end of the Grail Games x Knizia collaboration. After that, there was some question as to whether Y&Y would ever make a return. Fortunately, we didn't have to wait too long to see another publisher pick this one back up as publisher Phalanx will soon be reprinting it as Huang.
Why its exciting:
Yellow & Yangtze was awarded the Best New-To-Me Game in my post on the Top Board Games of 2021. Even with a new title and a different coat of paint, this is one that deserves to stay alive and find its way onto may more tables. Those who enjoy richly strategic games on a shared game board won't do any better than this game right here. Most exciting of all is the fact that the new Royal Palace expansion will finally make its debut.
---
Fit to Print
Expected Release Date: Q4 2023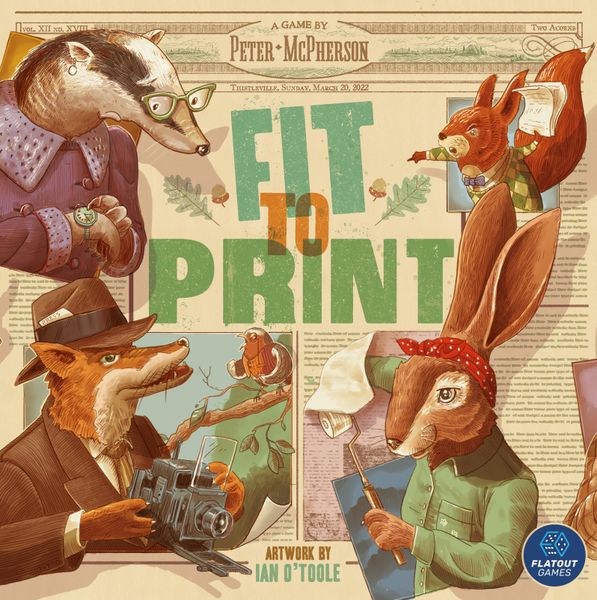 If Fantastic Mr. Fox's newspaper had a board game made about it, it would be Fit to Print. That's one of my favorite movies, so I'm all for it. It seems that Ian O'Toole might have taken some inspiration from the masterful stop motion animated movie when he brought this game to life. The charm oozes from every component of this game as players race to hoard tiles featuring stories, pictures, and advertisements and then fit them together on their newspaper board.
Why it's exciting:
Real-time games can be a blast when they infuse the experience with a sense of urgency, tension, and split-second decisions. The concept of scrambling to assemble the best newspaper and competing against rival papers feels like a perfect fit for this mechanism. Fit to Print also appears to be easier to teach and faster to play than comparable titles like Galaxy Trucker, so it certainly has my interest!
---
Empire's End
Expected Release Date: Q4 2023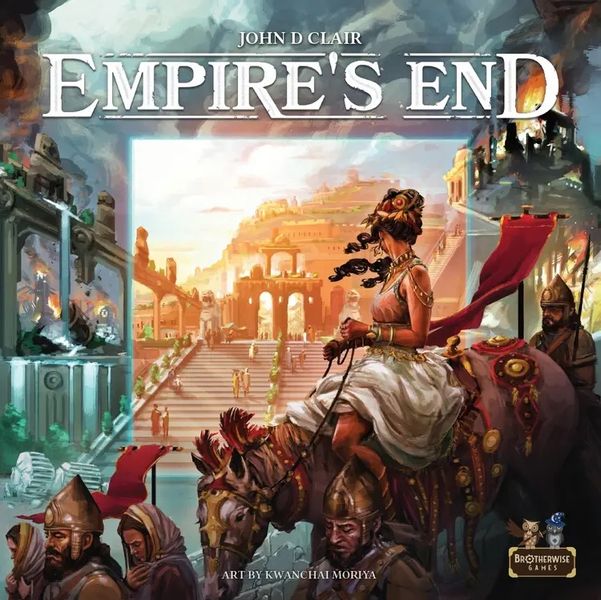 What if the avoidance auctions found within the game No Thanks were applied to a more robust board game? Designer John D. Clair asks this very question in Empire's End — a game of managing and avoiding catastrophes during the collapse of civilization.
Why it's exciting:
With a supremely talented artist, Kwanchai Moriya, bringing this design to life — the intriguing gameplay and gorgeous presentation combine to make for a compelling package. Do you spend your resources to save your civilization from an impending disaster, or bite the bullet and strive to turn these lemons into lemonade?
---
Caesar
Expected Release Date: January 2023 Kickstarter Launch, Q4 2023 delivery
If any designer likes to venture into new gaming territory, it's Reiner Knizia. He's designed long heavy games, light children's games, computer games, mobile app games, book games, and now apparently electronic dice games. While Caesar seems like it could be played with with just a standard set of custom dice, the use of a rollable, dice-shaped gaming console sounds intriguing.
Why it's exciting:
Dr. Knizia is the master of dice games, and this one certainly seems novel. On your turn you'll roll a Unidice — a digital die that (in this game) splits 5 of the die's faces into individual D6s. Using the included app, you'll be able to learn the game on the fly (no rulebook required) as you decide whether to lock in certain faces of the Unidice or re-roll them. The Unidice is set to launch this month on Kickstarter, so it'll be interesting to learn more about Caesar and the other games featured on the console.
---
Hollywood 1947
Expected Release Date: January 2023 Kickstarter launch, Q4 2023 delivery
Facade Games returns with their 5th title in the Dark Cities lineup of social deduction games packaged inside faux-book boxes. Hollywood 1947 sees players taking on the secret role of team patriot, team communist, or rising star as they work together to produce movies. Communists aim to sneak their propaganda into the films while patriots fight to eradicate such influences, and the rising star simply wants their fame to shine above all else. Meanwhile, each player performs a public studio job including screenwriter, director, actor, editor, and more which all influence whether a patriotic or communist film gets made each round.
Why it's exciting:
A while back, I had the pleasure of trying Hollywood 1947 with our friends over at Facade Games (late in the game's development) and it was an absolute riot. This one strikes a delightful balance of social deduction and player influence — all within a lively theme — and it promises to be my favorite game in the entire Dark Cities line. I've been anticipating this crowdfunding launch for a long time, and now it's almost here!
---
The Queen's Dilemma
Expected Release Date: December 2023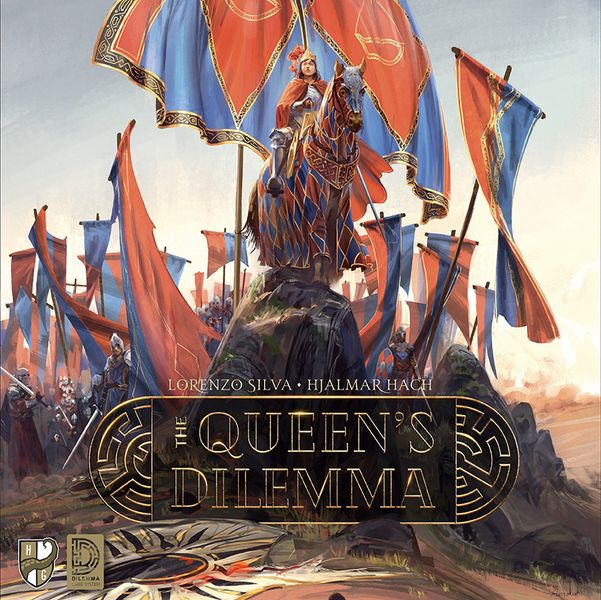 This hotly anticipated follow-up to the 2020 Kennerspiel des Jahres nominee, The King's Dilemma, will be making its debut by the end of this year! Players act as a council to the kingdom, making decisions and influencing the destiny of their dynasty as they face numerous dilemmas. This sequel introduces a game board map that will evolve over time as players oversee their territories.
Why it's exciting:
I was lucky enough to track down a copy of The King's Dilemma and wrangle together a group of 5 excited players, and together we had a blast blitzing through the legacy campaign. The highlight for me was the brilliant voting mechanism ripe with bribery and betrayal. It seems that the creative team has learned much from this first great game and plans to take this system to the next level in The Queen's Dilemma. Hopefully I can bring together another group of players to embark on the adventure!
---
Arcs
Expected Release Date: December 2023 Kickstarter Fulfillment / 2024 Retail Release
What if trick-taking was a space opera? As far as I'm aware, Arcs is the only board game to ask this question. In Arcs, 3-4 players can play through a standalone arcade style session or a 3-act campaign arc where players compete as factions who seek to… do all kinds of wild spacey things. Use your space fleet to unearth ancient technology, engage in battles, control various sectors, and embark on epic quests.
Why it's exciting:
Designer Cole Wehrle has been on a hot streak with the likes of Root (and its expansions), Pax Pamir: Second Edition, Oath, and John Company: Second Edition. His games certainly aren't for everyone, but they are absolutely for me and others who appreciate unfolding, gameplay-driven narratives within a highly interactive and malleable system. Arcs is his next big release, set in space, and brought to life by artist Kyle Ferrin and the team at Leder Games. If history is any indicator, then this will likely be among my favorite releases of the year.
---
Gussy Gorillas
Expected Release Date: January 2023 Kickstarter launch, December 2023 Delivery
We're going to close this list out with two more titles that Bitewing Games is thrilled to bring to life in 2023. Gussy Gorillas takes the core premise of Hanabi — holding your cards backwards so everybody but you can see them — and turns it into a competitive game of trading and bluffing.
Why it's exciting:
We here at Bitewing Games are huge fans of negotiation games, and Gussy Gorillas is our take on real-time, simultaneous negotiation with a blind-offerer twist. Experience what it's like to make offerings to other players and not see what you are offering. All you'll know is what your opponents are offering and how badly they want your own card. The pressure is on for you to convince your opponents to give you their best offerings rather than trade them away to another or keep them for their own collection. This quick-playing card game supports 3-10 players and works great as both filler game and party game.
---
Zoo Vadis
Expected Release Date: January 2023 Kickstarter launch, December 2023 Delivery
Zoo Vadis kicks off our new line of games called the Crown Jewel Selection — classic gems, now polished and perfected. Perhaps you didn't notice (I doubt that), but I am a shameless Reiner Knizia fan. And out of the dozens of Knizia games I've ever played, Quo Vadis has proven to be one his finest hidden gems for being a slick negotiation experience. So after combing through the decades of player feedback and BGG forums, we went to Reiner with a plan for how to evolve Quo Vadis into the best version of itself. The result was Zoo Vadis, and you can read all about that evolution in our Zoo Vadis Publisher Diary which was posted just today.
Why it's exciting:
We set out to create an all-time great negotiation game, worthy to stand alongside the likes of Chinatown, Bohnanza, Sidereal Confluence, John Company, and others. With the help of Reiner Knizia's development work, Kwanchai Moriya's illustrations, and Brigette Indelicato's graphic design, I believe we've done just that. At the very least, it's become one of my favorite games to play in my entire collection. Zoo Vadis features elegant & strategic gameplay of positioning, politics, and negotiation. It brings several gameplay changes including asymmetric animal abilities, neutral & bribable roaming peacocks, and a double sided player board that supports 3-7 players — all developed by the good Doctor Knizia himself. It's also ripe with epic zoo art thanks to Kwanchai and Brigette's expertise.
Be sure to visit the Kickstarter pre-launch page for Zoo Vadis & Gussy Gorillas and click to be notified when we launch later this month. Thanks for supporting Bitewing Games in our efforts to create and share board games that bite. Here's to another great year of gaming!
---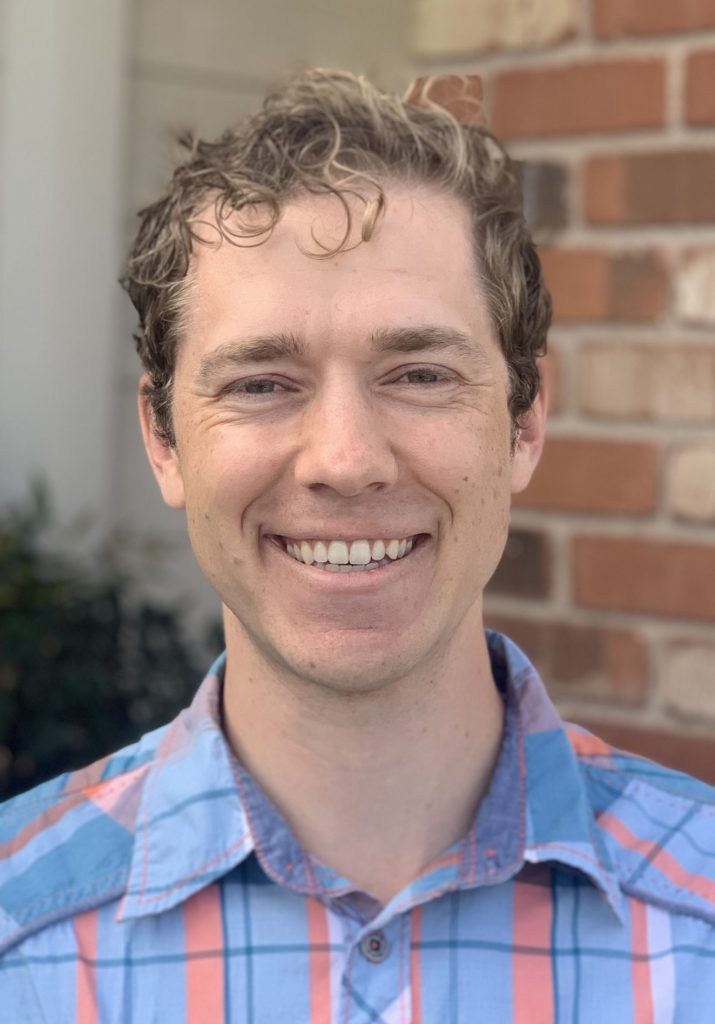 Article written by Nick Murray. Outside of practicing dentistry part-time, Nick has devoted his remaining work-time to collaborating with the world's best designers, illustrators, and creators in producing classy board games that bite, including the upcoming Zoo Vadis by Reiner Knizia. He hopes you'll join Bitewing Games in their quest to create and share classy board games with a bite.