One question I constantly see in board game forums is this: "What are the best travel-friendly board and card games?"  Whether you're headed out on a business trip, visiting friends and family, or simply taking a vacation, it's always nice to have something to entertain the group.  Yet board games typically come in huge boxes that don't always fit in a backpack, purse, or suitcase with your other belongings.  This is the perfect time to have a travel-friendly board or card game that comes in a small package and/or takes up minimal space on a table.  
With those needs in mind, I've assembled a list of the Best Travel-Friendly board and card games for any occasion:
---
Best Wallet Game – Sprawlopolis
Let's get this one right out of the way.  Wallet games are perhaps the most travel-friendly games that money can buy.  One publisher, Button Shy Games, specializes in this type of bite-sized fun, and one of their best titles is Sprawlopolis or Agropolis.  This is a design we've recommended extensively between our Top 10 Quick & Easy Solo Games as well as our Top 10 Spatial Puzzle Games because it takes 18 cards and turns them into a delightful challenge best suited for one or two players.
---
Best Standard Deck Game – Regicide

Even if you don't own an official copy of Regicide, this is one that you can technically track down anywhere and everywhere because the design uses a standard deck of playing cards.  Then, all you have to do is download the rulebook and you are off to the races.
Of course, buying the official Regicide deck is a great way to support the creators for making a fantastic cooperative experience for 1-4 players where you struggle to take down the Jacks, Queens, then Kings.  This is one that comes with me to basically any game night because it slots so easily into my game bag and never fails to entertain for 10-30 minutes.
---
Best Trick-Taking Game – The Crew: Mission Deep Sea, Ghosts of Christmas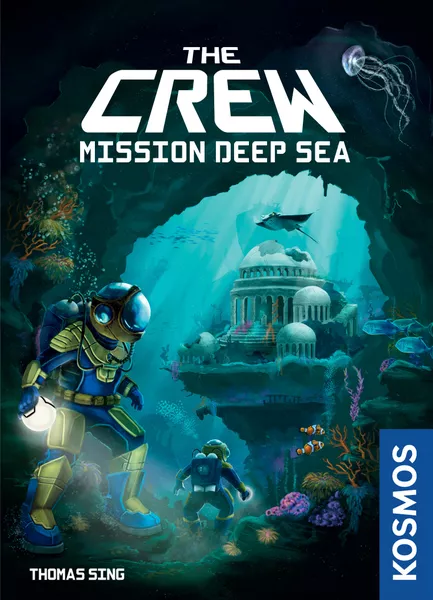 Trick-taking games are a dime a dozen, and the cream of the crop always hits the spot at our table whether I'm playing with hobbyist gamers or non-gamers.  I'll offer two suggestions here, both excellent and relatively new.  The Crew: Mission Deep Sea was just crowned as one of my Top 15 Games of 2021 for being an addicting crowd-pleaser where you work together to complete wacky round objectives.  Meanwhile, Ghosts of Christmas puts a twist on the formula by allowing players to play tricks into the past, present, and future in any order they wish; plus it's the perfect game to take home for the holidays.
---
Best Pub Game – Skull, Art Robbery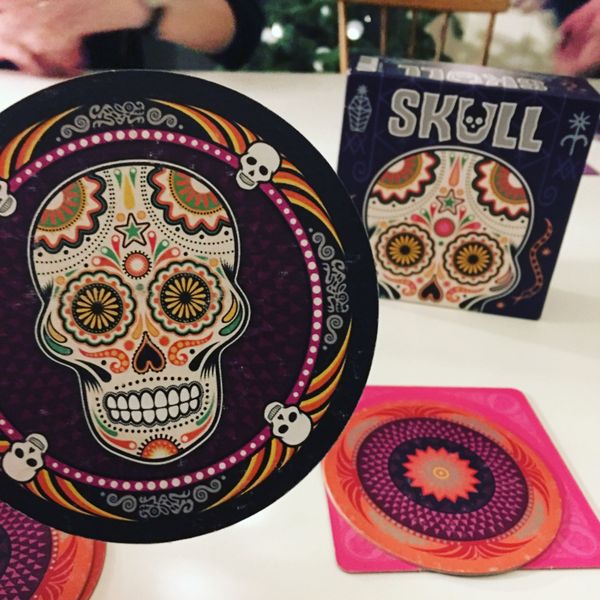 I constantly hear folks online asking about the "best game to take to the pub."  My answer?  Skull.  Skull takes simple bluffing and makes it a riot of a time… whether you are inebriated or not.  Each turn is as simple as placing a disc facedown onto your stash or bidding how many of everybody's discs you think you can flip without revealing a skull.  Just make sure your bartender doesn't confuse the discs for coasters.
That said, many folks already own Skull.  So for those of you who want something new and fresh, my follow-up recommendation is Art Robbery.  This one features double-layered thievery—art robbers are splitting the loot with each other via forceful, sticky-fingered methods.  The card play is simple enough that there is no chance of overwhelming your brain, yet the gameplay features some clever twists and funny moments making it perfect for a casual, raucous atmosphere.
---
Best Party Game – Insider, A Fake Artist Goes to New York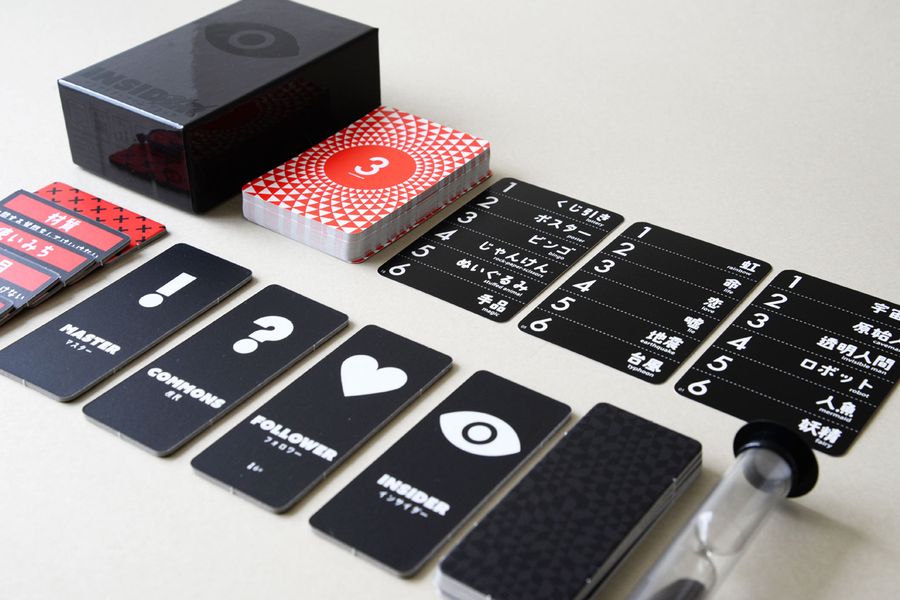 Need a small game for a big, boisterous group?  Look no further than Insider and A Fake Artist Goes to New York by Oink Games.  Oink Games are the masters of putting big, memorable moments into cute, tiny boxes.  Insider is their take on 20 questions with a twist: What if the 20-question limit was replaced with a sand timer, and what if one questioner was secretly a traitor who already knew the answer and wanted you to guess it without you noticing that they guided you to it so they can steal the victory for themself?  Meanwhile, a Fake Artist also has a traitor in that one person does not know the secret topic of the round and is trying to get away with artistic fraud and deception!  
---
Best Table-less Game – Trophies
Portable party games are great for casual trips or gatherings, but what if your gathering place has no table to play upon?  In that case, your best bet would be something like Trophies.  Trophies is the simplest, most approachable game on this list, yet it's also the loudest.  One player clutches a stack of trophy cards and displays one card at a time to the group—each card displays a single large letter.  The lead player then selects and reads aloud a category on the back of the deck such as "Something blue," "Something slow," or "Minor Ailment," and the first person to call out a word that starts with the big letter and relates to that category earns the trophy card.  Once the deck is gone, the player with the most trophies wins.  Whether you're the lead player judging and awarding the group's words or a competitor wracking your brain for the first word that comes to mind, you're bound to have funny time.
---
Best 2-Player Game – Schotten Totten 2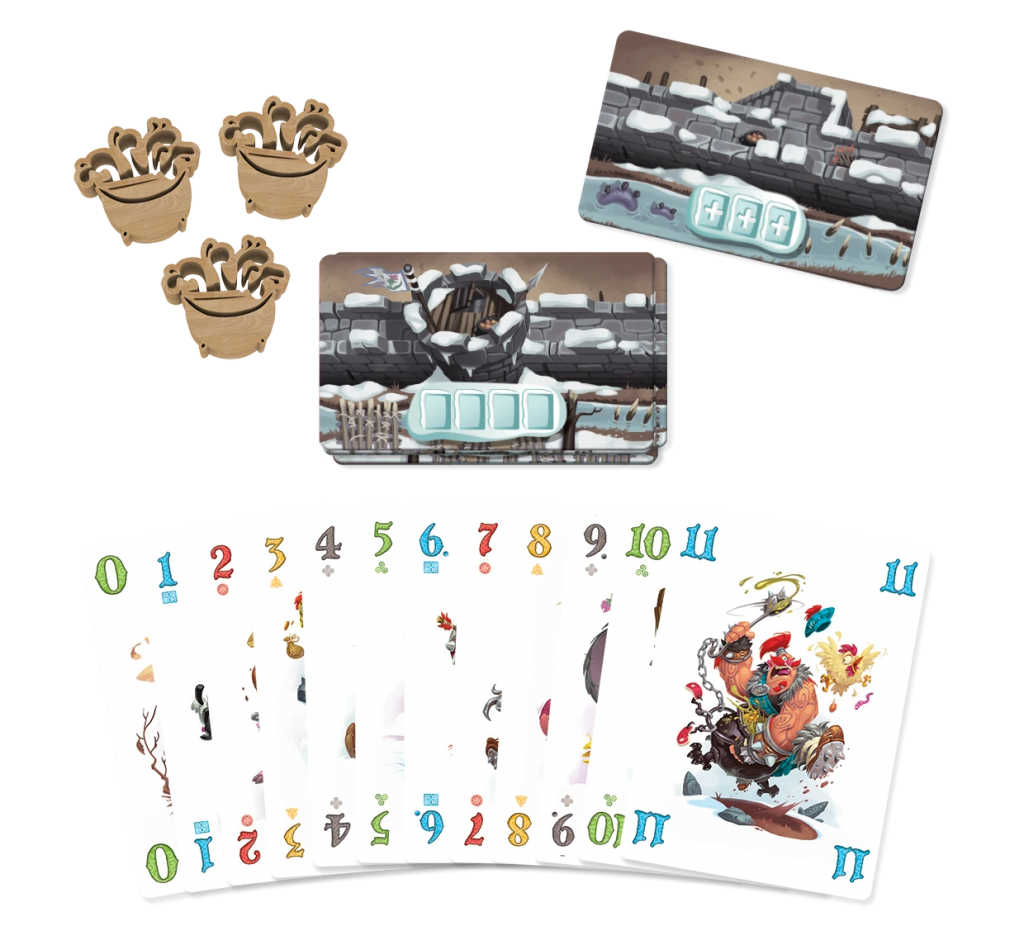 This next recommendation is for those of you who think this list is starting to sound more like a party list than a travel-friendly curation.  Schotten Totten 2 is a recent release from one of the greatest 2-player (or any player count, for that matter) game designers of all time, Dr. Reiner Knizia.  Featuring asymmetric strategy, a delightfully zany theme of chickens vs. scotsmen, and characteristically elegant rules, Schotten Totten 2 is the excellent standalone sequel to one of the most widely revered 2-player games (Battle Line / Schotten Totten).  To top it off, the box isn't much larger than a hen's egg.
---
Best Family Card Game – Startups, SCOUT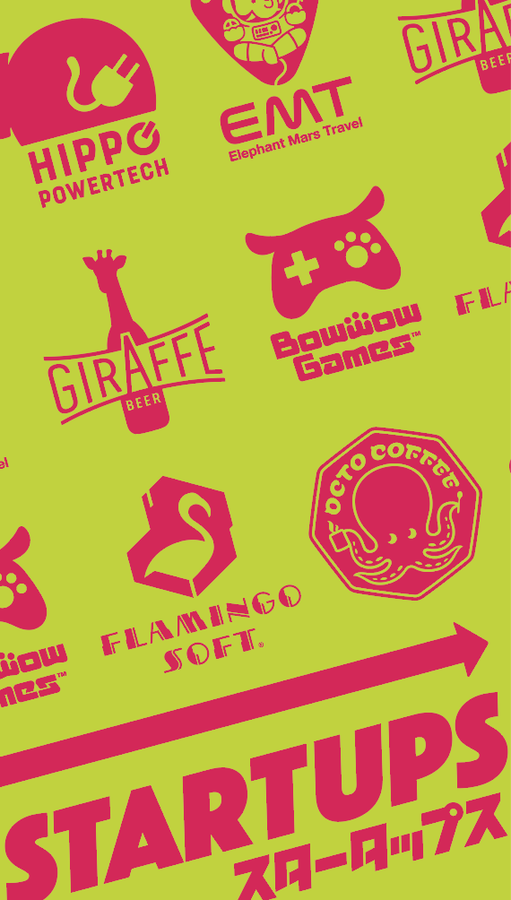 We're back with more adorable Oink Games, namely Startups and SCOUT!  Both titles have been effortlessly approachable and addicting for my family members including siblings, cousins, parents, and more.  Both games possess the simplicity of evergreens such as Uno or Phase 10, yet they also provide a superior strategy and tension that will keep you satisfied throughout.  Startups is all about investing just a little bit more in companies than your opponents, while SCOUT sees players recruiting performers into their hand to help them put on a good circus show.
---
Best Cooperative Game – The Mind, The Game, Hanabi
If your family or friends shy away from competitive settings, then perhaps a cooperative game is in order?  The Mind and The Game (yes, that is its title) are two peas in a pod of being games where players must collectively discard cards from their hands in ascending or descending order without saying anything.  It doesn't sound like much of a game at all, but somehow it works and it's thrilling!  Meanwhile, Hanabi is a beloved classic of holding your hand inside-out, meaning everyone can see your cards except you, and giving each other hints about the cards you can see.  Hanabi has had such an impact on me that it inspired the creation of our upcoming publication, Gussy Gorillas, which takes the inside-out hand concept and turns it into a competitive game of trading and bluffing.
---
Best Social Deduction Game – Scape Goat, Durian
Speaking of bluffing, animals, and not seeing every card, Scape Goat and Durian have proven to be excellent games of deduction and deceit at our table.  Durian is another Oink Game, yet this one comes with a tiny bell and a whole bunch of fruit cards.  Every turn you and your fellow storefront apes must face a difficult decision: take another fruit order or tattle tale on an opponent?  If you think your fruit orders exceed your inventory, then you can call the boss with the ring of a bell and hope that your theory is right, because if you're wrong then he'll get mad at you instead!  Meanwhile, Scape Goat is all about throwing a fellow criminal under the bus without them even realizing it… the only problem is that poor sap might actually be you!
---
Best Solo Game – Under Falling Skies
I fully admit that Under Falling Skies is the largest box and thus the least travel-friendly game on this list, yet I wouldn't hesitate to toss it into my backpack or suitcase if I knew I'd have downtime for a great solo session.  This one has been featured a fair amount recently between my Top 10 Quick & Easy Solo Games as well as my Revisiting the Best Board Games of 2020.  To put it plainly, there is much to love about this solo game featuring difficult dice decisions and pesky alien invasions.
---
Best Game to Take on Outdoor Adventures – Trailblazers
While the Standard and Deluxe Editions of Trailblazers are best tailored for hobbyist gamers who want the most variety and content from a standard game box, the Travel Edition became our chance to really lean into the theme of hiking, biking, and kayaking with the packaging and material selection.  We've seen many creative packages for board and card games from button shy wallets and pseudo book covers all the way to banana pouches and stuffed monkeys, yet there is one type of package that I'm surprised has been largely overlooked by publishers up to this point.  To me, nothing says outdoor adventure and travel-friendly like a small clamshell case and carabiner, and thus our Trailblazers: Travel Edition was born.
Ryan admits that Trailblazers is his first published design that will appeal to casual and hobbyist gamers alike.  With the help of artist Seth Lucas, who as worked on everything from hiking patches to John Muir books, we knew we could craft a game fit for both friendly local game stores as well as national park gift shops.  
Beyond the ability to attach the Travel Edition to a backpack, we wanted to make sure the cards could hold up under endless plays and rigorous conditions.  So for those who buy the Super Travel or Deluxe editions of Trailblazers, your game will come with 100% PVC cards (durable, water-resistant, plastic cards).
So whether you want an affordable, portable game or a box crammed with content, you'll be able to acquire the travel-friendly clamshell case, carabiner, and PVC cards via the Trailblazers Super Travel or Deluxe edition when our Kickstarter project launches this August.  You can subscribe to the Kickstarter pre-launch page here. And we absolutely need your help!  Bitewing Games is only made possible and kept alive by the support of backers and fans of our published games.   Thanks for your support!
Article written by Nick Murray. Outside of practicing dentistry part-time, Nick has devoted his remaining work-time to collaborating with the world's best designers, illustrators, and creators in producing classy board games that bite, including the upcoming Trailblazers by Ryan Courtney. He hopes you'll join Bitewing Games in their quest to create and share experiences that, much like a bitewing x-ray, provide a unique perspective and refreshing interaction.