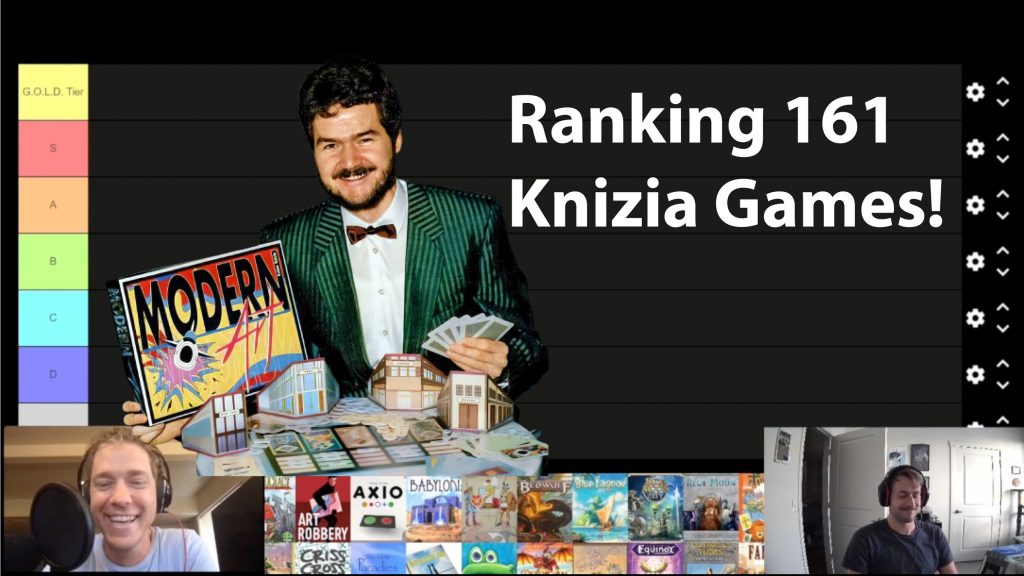 With roughly 1000 plays of over 150 different Reiner Knizia board games, Nick and Scott are ready to unleash their Ultimate Reiner Knizia Ranked Tier List! This list is split up into a 4-part YouTube series where we rank and discuss each game in depth. Check out each episode below!
If you scroll down far enough, then BEWARE OF SPOILERS. At the bottom of this post you will find the image and written spread of our tier list.
Here is a link to the Tiermaker list itself where you can rank and share all of the Knizia games you've played!
If you're a fan of any of Reiner Knizia's games, then you should join the Reiner Knizia Enthusiasts Discord Server where we chat all things Knizia Games!
Finally, this list was created in celebration of our current Kickstarter project featuring two new Reiner Knizia games, Cascadero and Cascadito, as well as the reprint of his critically acclaimed Zoo Vadis. Be sure to check out the project before it ends on November 2. Thanks for your support!
Watch the Video Series (Click the image to watch the Youtube video):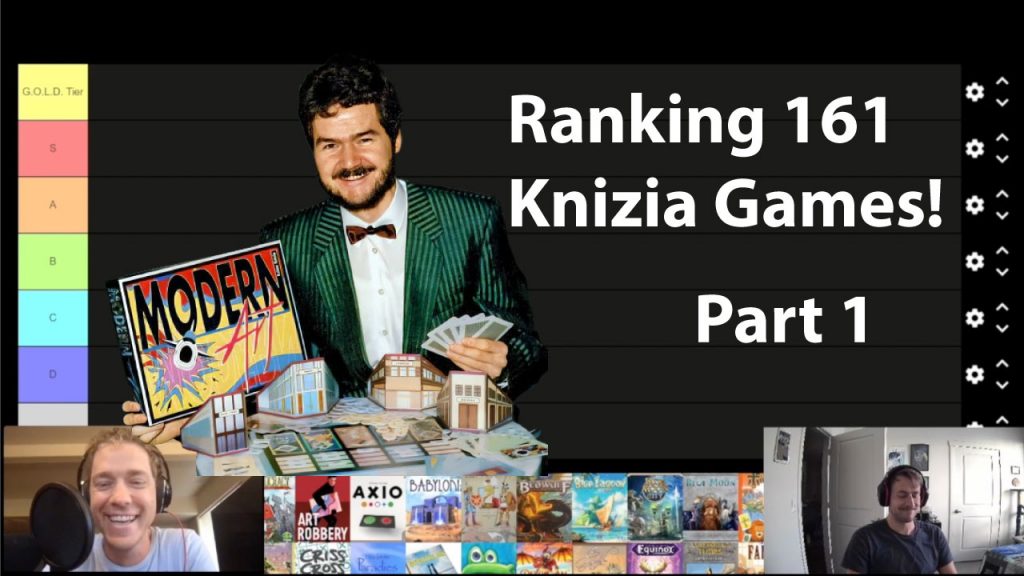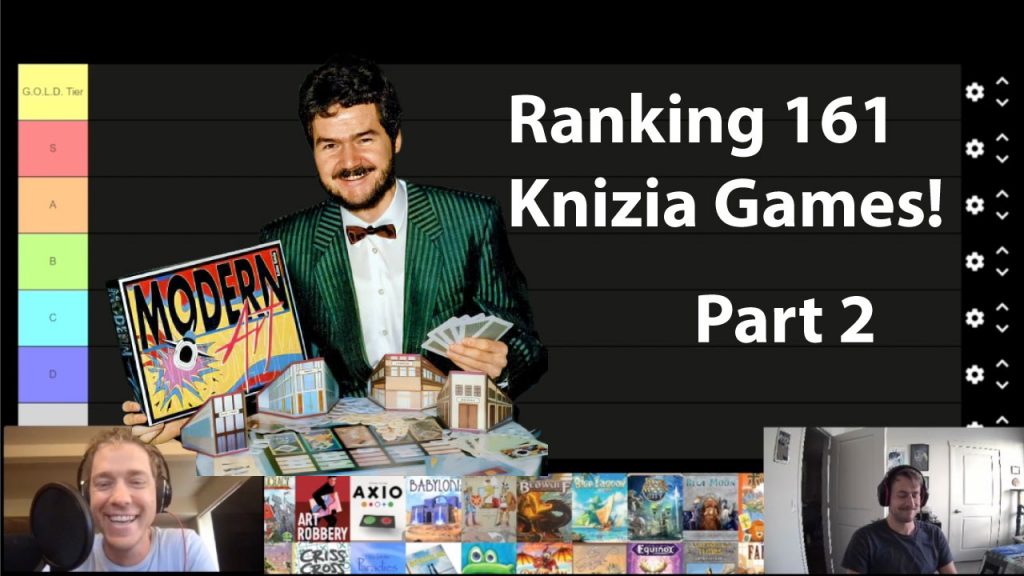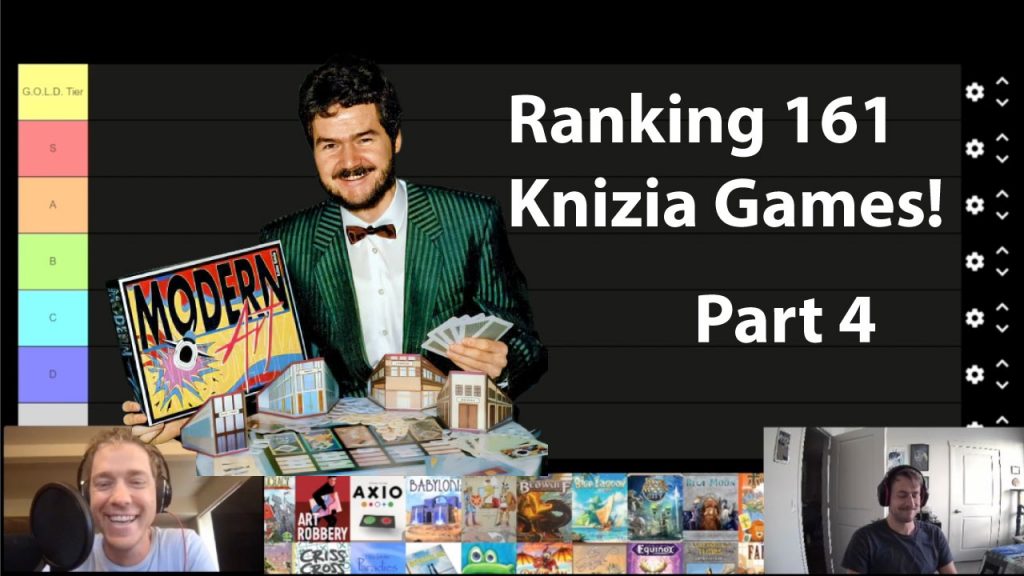 SPOILERS: Full Tier List Below….
The full tier list (in the order pictured):
GOLD-Tier (Greatest of the Only Living Doctor):
The Quest for El Dorado
Tigris & Euphrates
Yellow & Yangtze
Ra
Through the Desert
Zoo Vadis
High Society
Schotten Totten / Battle Line
S-Tier (The Best)
Babylonia
Cascadero
Municipium
Samurai
My City
Mille Fiori
Mille Fiori: The Masterpieces (expansion)
The Lord of the Rings: The Confrontation
Orongo
The Quest for El Dorado: Dangers and Muisca (expansion)
Taj Mahal
A-Tier (Amazing. Absolutely. Always.)
Lost Cities
L.A.M.A. Party Edition
Hot Lead
Blue Moon Legends
Beowulf: The Legend
Blue Lagoon
Botswana / Wildlife Safari
Chartae
Colossal Arena / Equinox
For One: Galaktix
For One: Kniffel
For One: Number Up
For One: Schwarze Rosen
Gang of Dice
Modern Art
My Island
Royal Visit
Stephenson's Rocket
Tatari
Winner's Circle
Viking See-Saw
Zamek / Carcassonne: The Castle
MLEM: Space Agency (not played, this is a prediction)
B-Tier (Super Solid, Hidden Gems, Surprisingly Great)
Whale Riders
Schotten Totten 2
Quo Vadis?
Qin
Palazzo
Cascadito
Cat Blues
Amun-Re: 20th Anniversary Edition
My City: Roll & Build
Rapido / Excape
Heckmeck am Karteneck
Axio
Ingenious
Karate Tomate
Art Robbery
Circus Flohcati
Genesis
Pan Tu Nie Stal!
Heckmeck Deluxe / Pickomino Deluxe
Silver Screen
Nightmare Productions / Hollywood Blockbuster / Dream Factory
Pumafiosi
Soda Smugglers
Kingdoms
King's Road
L.A.M.A. Dice / Don't LLAMA Dice
Medici: The Card Game
Medici
Ninja Master
Pollen
Prosperity
Sunrise Lane
San Francisco
The Siege of Runedar
Tajuto
Treasures of Nakbe
Havalandi (this was a prediction at the time of recording, but now Nick has played it twice and ranks it as "at least B-tier, possibly higher, need more plays")
C-Tier (Reliable Reiner. Good games. We'd rather play these than much of the industry hotness. Worth a try, at least for Knizia fans)
The Quest for El Dorado: Dragons & Treasures (not played, this is a prediction)
Wiener Walzer
Rheinlander
The Quest for El Dorado: Heroes & Hexes
The Quest for El Dorado: The Golden Temples
Kariba
Africa
LAMA / Don't LLAMA Card Game
Indigo
Whale Riders: The Card Game / Trendy
Foodie Forest
Marshmallow Test
Odd Socks
The Lord of the Rings
Aristocracy
Blue Moon City
Amun-Re: The Card Game
Cheeky Monkey
No Mercy!
Classic Art
Das Letzte Paradies
Dice Monsters
En Garde / Duell
Tower of Babel
Space Worm
Forbidden City
Sumatra
Great Wall of China
High Score
Ilium
Into the Blue
Longboard
Keltis: Der Weg der Steine Mitbringspiel
Lost Cities: The Board Game
Medici: The Dice Game
Lost Cities: Roll & Write
Medici vs Strozzi
Merchants of Amsterdam
Minotaur Lords
Scarab Lords
Money
Penguin Party
Poison
Ra: The Dice Game
Rondo
Spectacular
Strozzi
Knights of Charlemagne / Tabula Rasa
Tutankhamun
At the Office (not played, this is a prediction)
D(cent)-Tier (Sub-par for Knizia… It's fine… I mean, I'll still play it if you insist)
Pick a Pen: Tuinen
Pick a Pen: Riffen
Pick a Pen: Crypten
Euphrates & Tigris: Contest of Kings
Age of War
Criss Cross
Reiner Knizia's Decathlon
Dragon Land
Family Inc.
FITS
Galaxy Cat Extension
It's Mine! / SWAT
Ivanhoe
Loot
Looting London
Lost Cities: Rivals
Modern Art: The Card Game
Ohio
Res Publica
Star Trek: Expeditions
Sushizock im Gockelwok / Sushi Bar
Turtle Mania
Yangtze
Yoku Gamı
Witchstone
F-Tier (Nah, I'm good)
Cat Ass Trophy / Zero Down
Pan Tu Nie Stal! Demoludy
Sudoku Challenge
Zombie Mania
Vampire
---
What are your favorite Knizia games? How would your tier list be different from ours? Share below!