Gifts for the Hobbyist Board Gamer
---
Gloomhaven: Jaws of the Lion – $50 MSRP
Gloomhaven: Jaws of the Lion is, as the box says, "a fully cooperative fantasy campaign adventure." I've already talked about how this is a much more approachable version of the highest rated board game of all time. It's perfect for 1-4 players looking to play a great cooperative game on a regular basis with new challenges and scenarios each play. If the lucky person you have in mind is the type who enjoys learning the rules to a meaty game, teaching them to others, and playing the game consistently, then you can't go wrong with Gloomhaven: Jaws of the Lion.
---
Maracaibo – $75 MSRP
Maracaibo is a sprawling strategy game with plenty of juicy decisions to explore. It sees players sailing the 17th century Caribbean while managing multi-use cards to deliver goods, gain influence, earn money, and perform various actions. This epic adventure was released only a year ago, yet it's managed to land itself in the top 50 overall games and top 30 strategy games list. Just know that this is only a game we recommend for those who are heavily into strategy or "Euro" games as it can be a bear to learn, setup, and teach, but it's absolutely worth the investment for those interested.
---
Fort – $30 MSRP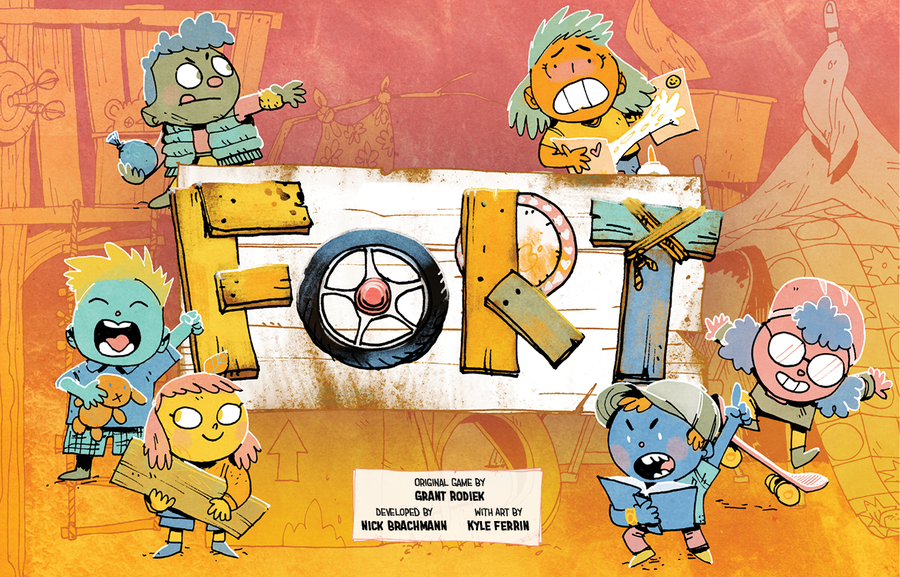 Fort is a home run of a small box project from the ever peculiar Leder Games. This deck builder feels as fresh as an armful of warm, laundered bed sheets. Instead of being a stereotypical board game about space aliens, fantasy creatures, or deadly zombies, Fort is all about being a kid, hanging out with your neighborhood buddies, and building forts. I love how each new hand of cards is a juicy opportunity for combos, a crafty shot at bumming off of other players' public actions, and a painful decision of which friends to neglect and possibly lose forever. It may take a full playthrough to wrap your head around the rules, but this one only takes 40 minutes tops, and it'll more than likely leave you hungry for another go.
---
Roxley Iron Clays / Generic Poker Chips – $35-$80+
If the gamer you are gifting tends to play a fair amount of games that use cardboard or paper money, then Iron Clays or a nice set of Poker Chips are one of the best possible upgrades a hobbyist board gamer can get. These beauties add a luxurious tactility that will spoil players rotten and make them never want to go back to the old ways. It appears that you can find a small set of Roxley's Iron Clays (my personal preference) that will work for most games at trusted online retailers including GameNerdz and Miniature Market. If you're worried that 100 chips may not be enough for certain games, then you can purchase the 200 piece set (I own this one) directly from the publisher. Keep in mind that they are based in Canada, so the prices are listed in CAD (but their shipping to US customers is super reliable) and the listings say "preorder," but I'm almost positive that they have them in-stock, ready to ship (you can always ask!).
---
Under Falling Skies – $30 MSRP
So perhaps the poor hobbyist gamer in your life has been struggling to find people to game with this year. That's certainly understandable! It feels like a lifetime ago, but we did create a list of 10 Games to Enjoy Amid a Quarantine that may help out. But my latest and hottest recommendation for those looking to play a solo game would be Under Falling Skies. This game is scheduled to be released in Q4 of this year (most likely before Christmas).
Under Falling Skies is from the same team who published the popular Codenames. This is a rather simple, puzzly dice game with ratcheting tension all about defending a city from invading alien ships. It's basically a compact, 30-minute board game recreation of the final battle of the classic movie, Independence Day. Pretty cool! I actually haven't played this one yet, but it has existed in a 9-card print-and-play format for a while now and the buzz around this official reimplementation from publisher CGE is overwhelmingly positive.
You can either preorder from a retailer or directly from the publisher.
---
Continue on to Page 3: Gifts for the Casual Board Gamer