With all the "Most Anticipated Games of 2022" lists I've seen over the past few weeks, it feels like Bitewing Games is a little late to the party. On the other hand, I've been surprised to see very little overlap between my list and the many others out there. So today it is my honor to shine a spotlight on many promising—and possibly overlooked—titles.
From quick, simple card games to sprawling legacy campaigns… from loud, hilarious party romps to tantalizing expansions, my most anticipated board games of 2022 list covers the entire spectrum of exciting upcoming releases. And these are just the ones we know about so far…
---
Caesar!: Seize Rome in 20 Minutes
Expected Release Date: Now
Well it appears that Caesar being on our 2021 Holiday Board Game Gift Guide was wishful thinking. But now that this promising war game is finally starting to show up on shelves and doorsteps, it feels like second Christmas! Don't be surprised it this one ends up claiming the title of best 2-player game of the year. Father Paolo Mori and the older sibling to Caesar (Blitzkrieg) are that good.
Why it's Exciting: Tense, bitey tug-of-war games frequently hit the spot for me. While this one isn't as blatant of a tug of war as Blitzkrieg, it still appears to capture a similar essence. It also gives me faint vibes of another classic tile laying game—Samurai. Those two bangers are very good company to be in.
---
Ghosts of Christmas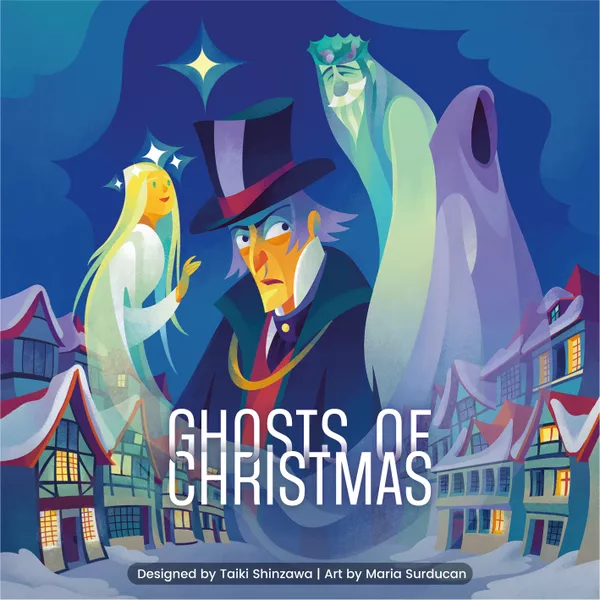 Expected Release Date: February 2022
Thanks to clogged ports and delayed shipments, some of the games here are spillover from last year's most anticipated board games list. Ghosts of Christmas is the first in a trio of games that Board Game Tables launched on Kickstarter last year. Sadly, this game may have just missed Christmas 2021, but I suppose it's not a big deal because here you'll be able to time travel as you play tricks in the past, present, and future.
Why it's exciting: BGT has developed a new hobby of unearthing bizarre Japanese designs and bringing them to a wider, western audience. Folks like me who love wonky card games should have this on their radar.
---
Bear Raid
Expected Release Date: February 2022
Game two from the BGT trio is none other than Ryan Courtney's Bear Raid.  Fun fact: Ryan told me that he's not a big fan of games where politics (wheeling and dealing, messing with others' plans, persuading opponents in directions that help yourself and hurt others, etc.) can influence the outcome, and Bear Raid is in many respects this type of game, so he basically designed a game that he personally isn't into.  How about that.  The important thing here is that Ryan's playtesters love this stock investment romp… and it's whimsically illustrated by Nick Nizzaro.  I was born ready for this one.  Yet for those who are hoping for a more warm and welcoming game from Ryan, we've got you covered (more on that later).
Why It's exciting: I love a good interactive game where you can bet on or invest in various options. Whether it's a horse, a camel, a battalion, or a company, the moment you feel personally invested in a thing's success is the moment where the excitement begins.
---
Factory Funner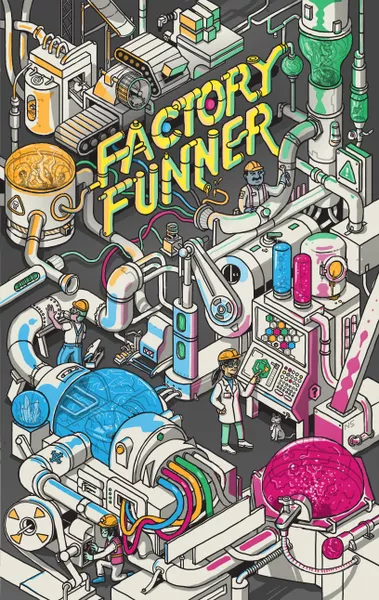 Expected Release Date: February 2022
I've never associated factories with the adjective "fun," but this final game in the BGT trio is poised to change all that. I recently shared my top 10 spatial puzzle games, and Factory Funner made that list thanks to questionable combination of gut-feeling and critical acclaim.
Why It's exciting: The crunchy spatial game play, the stylish art, the flexibility of tile arrangements, and the quick playtime all speak to me in this updated version from BGT.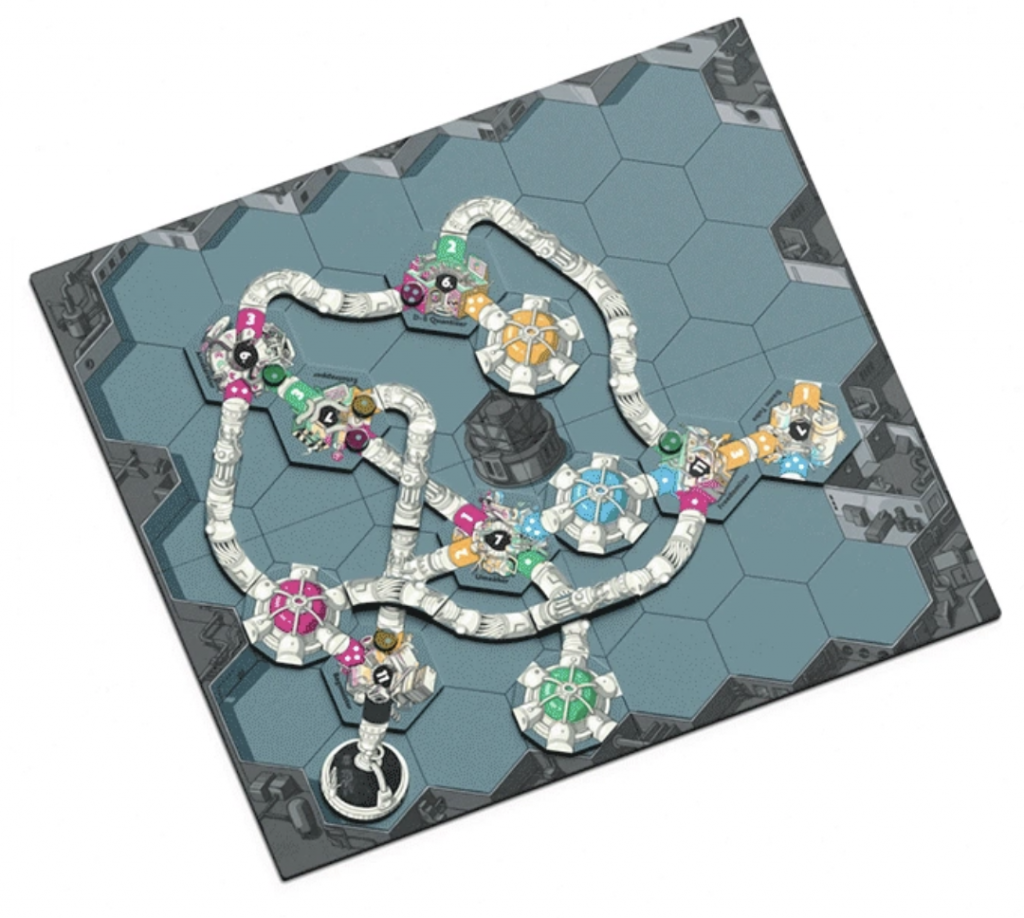 ---
Sound Box
Expected Release Date: March 2022
I'm not sure which is more surprising: the implication that Horrible Guild needed to take Sound Box to Kickstarter or the fact that it only raised 12k Euros. I wouldn't be surprised if they spent roughly that much just to market the game—what a depressing thought. Of course, launching a party game during COVID may have had something to do with that… Regardless, I've got my money on this game being a hoot (literally—I'm a backer) and gaining a second wind once it hits tables. The design team behind The King's Dilemma and Railroad Ink have created a game where players must cooperate to listen to each other's weird sounds in a quest to pick out the right topic cards. Imagine Codenames where the clues are a chaotic jumble of simultaneous noises and you're basically there.
Why it's exciting: Also imagine your partner, sibling, parent, or friend trying their best but epicly failing to recreate the sound of a printer… or a golf tournament. Need I say more?
---
Root: The Marauder Expansion
Expected Release Date: Q2 2022
Few things bring me as much joy as a new box of Root goodies. Between the exciting faction variety, charismatic art by Kyle Ferrin, and colorful Leder Games production, Root and its several expansions never fail to capture my heart. The Marauder Expansion is particularly notable in that it apparently offers an enhanced experience a lower player counts thanks to the new hirelings.
Why it's exciting: "Some critters just want to watch the world burn." Such a sentiment can be said about about the new faction Lord of the Hundreds—an unhinged rat who incites 'torch-wielding mobs.' Meanwhile, the Keepers of Iron are disciplined Badgers on the hunt for ancient relics. What's not to love here?
---
John Company: Second Edition
Expected Release Date: June 2022
Speaking of exciting new games from Root designer Cole Wehrle, John Company: Second Edition is hot on the heels of The Marauder Expansion's scheduled release. While this is only the second game to come from the brothers Wehrle and their company Wehrlegig, the first one (Pax Pamir: Second Edition) is one of my favorite games ever. Thus, a meaty game of negotiation and politics from Cole is exactly the kind of thing that could easily become my favorite game of 2022 (and of all time). It's gonna be a good summer of gaming, my friends.
Why it's exciting: If gorgeous, historical board game productions from a boundary-pushing game designer sound like your kind of thing, then Wehrlegig Games is a publisher you should follow. They've already proven that their games are a labor of love, and John Company: Second Edition is set to please folks who enjoy deep, immersive, and dynamic political experiences.
---
Soda Smugglers
Expected Release Date: June 2022
I can't believe we've had to stretch all the way to June to find a new Knizia game to be hyped about! But worry not, because the second half of the year should more than satisfy Knizia fans. These next three games are ones that I've already played a ton of, but that's because we here at Bitewing Games are their publisher. Personally, I'm excited to see our vision for Soda Smugglers achieve its final form—bottle cap tokens, hilarious bribing, and all. For people who want a quick, clever bluffing game that is dead simple to teach, Soda Smugglers should be right up your alley. You can even still preorder the standard or limited deluxe edition here and be one of the first to own it.
Why it's exciting: Harmless, simple, and fast bluffing games are perhaps some of the best gateway and/or filler games out there. Nothing breaks the ice better than witnessing a seemingly gentle person attempt to cross the border with a couple suitcases jam-packed with illicit soda bottles. And few things are as funny as watching the border guard fall for a bluff or a wily traveler shoot themself in the foot with a mistimed double-bluff.
---
Pumafiosi
Expected Release Date: June 2022
Along the same lines, Pumafiosi is another offering from Reiner Knizia and Bitewing Games. This one features a unique style of trick-taking where the second-highest card wins the trick and slots their winning card into a push-your-luck style hierarchy. To top it all off, it features zany Puma Mafia characters galore.
Why it's exciting: Similar to Ghosts of Christmas, here we have another wonky card game that slowly reveals layered strategies as you peel through the onion. This is a small game with a big payoff in how it rewards multiple plays. Plus the Pumafia art and lore spread across the entire collection is simply a joy to explore.
---
Hot Lead
Expected Release Date: June 2022
Finally, Hot Lead rounds out the Criminal Capers Collection with a new twist on auctioning from the master designer of auction games himself. With the help of 19 illustrated investigators, you'll be undercover collecting evidence on criminal organizations. Just like the other two games, this one is quick, simple, and addicting. Again, if you're interested, you can preorder here. This is currently the best and only way to support Bitewing Games as a publisher and content creator. We love sharing and making games that bite (it's in the name), and we appreciate the support!
Why it's exciting: Those who appreciate auctioning games are likely fans of Knizia's stone-cold classics including Ra, High Society, and Modern Art. With Hot Lead, we were thrilled to discover that Reiner had funneled his mystical auction design powers into an even faster experience while giving the game its own distinct flavor. Furthermore, you get the best of a push-your-luck experience where the glorious triumphs feel amazing and the stinging failures are as quick as ripping off a band-aid. Either way, you're always hungry for another go.
---
Beyond the Sun Expansion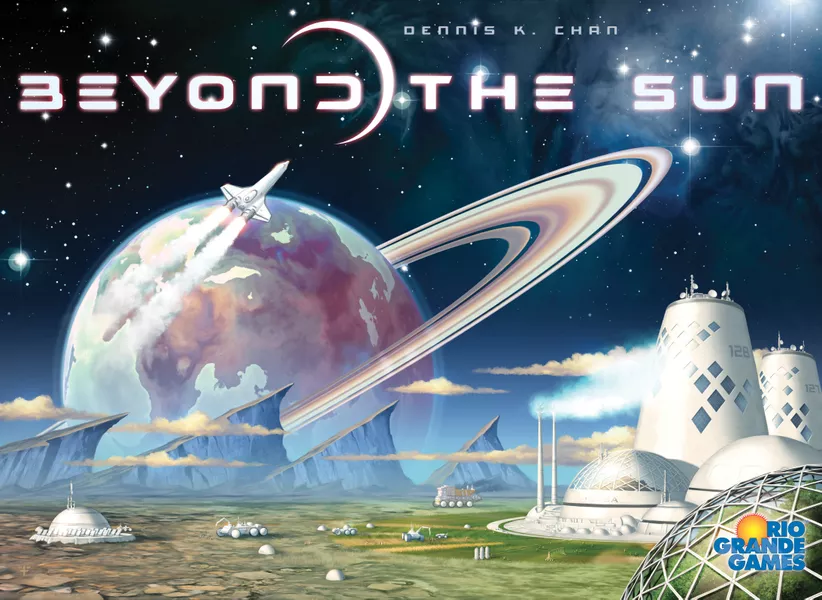 Expected Release Date: Q2-Q3 2022
We don't know much yet, but word on the street is that the upcoming expansion for Beyond the Sun provides more incentives to focus on the planet board (colonization and area control). But to be honest, anything that gives me more reasons to revisit this excellent tech-tree bonanza of a Euro has my interest.
Why it's exciting: Beyond the Sun is one of those types of games that feels like it has endless possibilities thanks to the uniquely unraveling tech tree. Adding more possibilities to those 'endless' possibilities is a thrilling prospect that has me wondering what lies beyond Beyond the Sun.
---
Ahoy
Expected Release Date: Q3 2022
Ahoy is the next direct-to-retail game coming from Leder Games. This one is described as an asymmetric pirate strategy game for 2-4 players that plays in roughly 1 hour. Two players will play as oppositional governments (one insurgent, the other established) while the other two players act as smugglers who influence the topology and value of the map that is being contested over. According to Leder Games, this one is already finished and heading to manufacturing.
Why it's exciting: Folks who love the idea of Root but dread the baggage that game comes with it (meaty teach, steep cost of admission, etc.) can look forward to Ahoy being the more approachable design that scratches a similar itch.
---
Trailblazers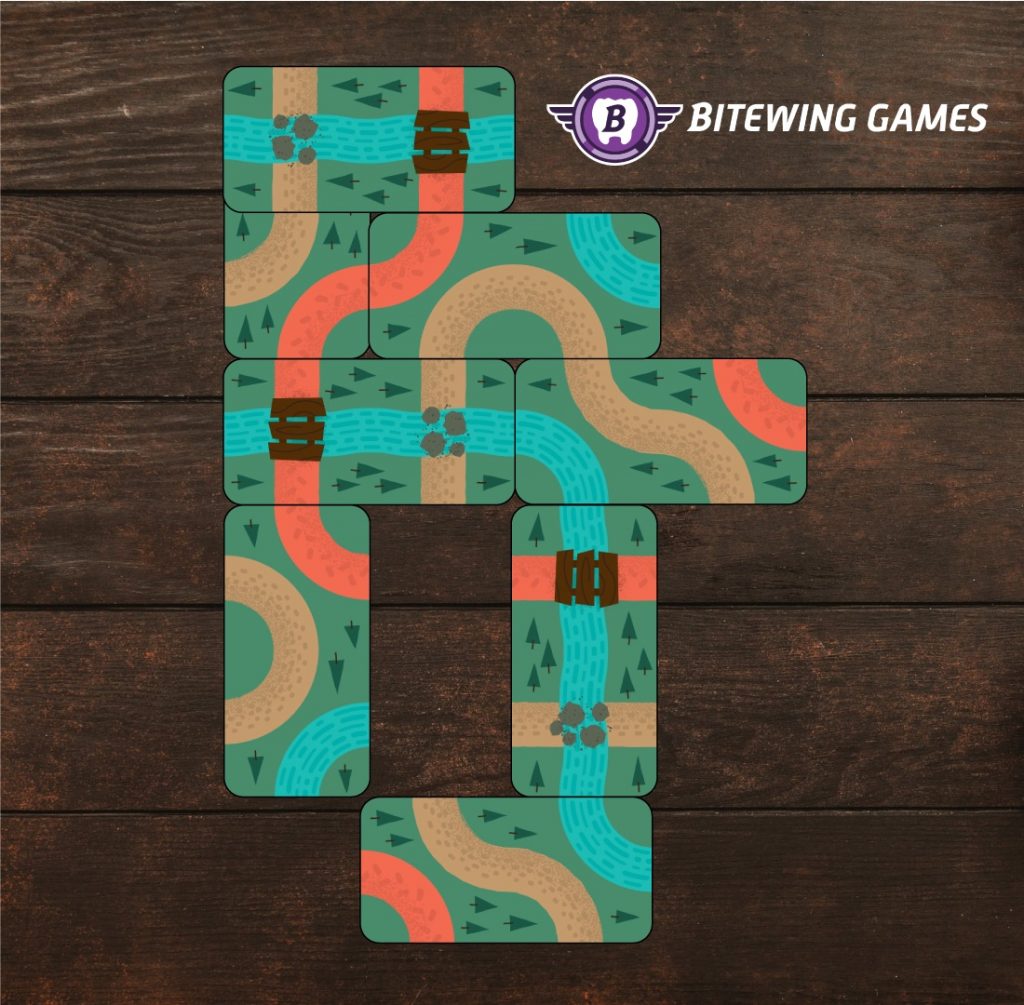 Expected Release Date: Q4 2022
Assuming we don't hit any significant delays, it's very possible that our next release after the Criminal Capers Collection reaches tables before the end of the year. We recently unveiled the first details of Trailblazers by Ryan Courtney, and more juicy info will be trickling in over the coming weeks. Those who enjoy spatial puzzles will find much to love here between the three solo modes, wide player count of 1-8, charming outdoor adventure theme, simple ruleset with a high skill ceiling, and handy travel case. Be sure to subscribe to the Bitewing Games newsletter to follow the game all the way to the Q2 Kickstarter launch!
Why it's exciting: Ever since my first play of the excellent Pipeline, I always thought it would be cool to see a game that really focuses in on and explores the possibilities of a pure spatial puzzle game based solely on Ryan Courtney's windy pipe domino tiles. Trailblazers is that game. Trailblazers is to Pipeline as Patchwork is to A Feast for Odin. Here you can simply concentrate on constructing ambitious, exciting routes within a charming theme and colorful presentation that will appeal to anyone.
---
Horseless Carriage
Expected Release Date: Q4 2022
Publisher Splotter Spellen is known for many strategic classics including Food Chain Magnate, Bus, Indonesia, and The Great Zimbabwe. Fans of their designs have come to love the trademark Splotter traits of pure strategy, punishing decisions, brutal interactions, and deep gameplay. While details on Horseless Carriage are sparse, we do know that this is another economic game about creating and selling automobiles in the dawn of the industry.
Why it's exciting: Horseless Carriage is the first entirely new game put out by Splotter since 2015's Food Chain Magnate. With FCM being their highest ranked game and most recent game, that means Horseless Carriage has big shoes to fill. Whether it lives up to those high expectations or not, Splotter fans can finally celebrate the end of a 7-year new game publishing drought.
---
Sidereal Confluence: Bifurcation
Expected Release Date: 2022
I was recently delighted to discover that one of my favorite high-interaction games is getting an expansion this year. Thanks to a cross-country move and COVID, it's been trickier to get Sidereal Confluence to the table lately, especially where the game shines best with 5+ players who enjoy wheeling and dealing. I'm hoping to dive deeper into this epic game of negotiation before this exciting expansion releases.
Why it's exciting: Bifurcation is set to effectively double the variety of asymmetric species players can use during the game. It introduces a new variant to each of the 9 alien species in the game—meaning new mechanisms, new strategies, and new trading opportunities.
---
My City: Roll & Write
Expected Release Date: 2022
Last year, I interviewed Dr. Knizia about his plans for a follow-up to the phenomenal legacy game, My City. He hinted that there would be a sequel, but it would explore new gameplay rather than retread the same ground. It turns out, that sequel has been reveal as My City: Roll & Write. From the box cover, we can gather that many of the core concepts have been carried over: the city sheet shows a very similar layout to the original game's board including mountains, a river, rocks, and trees. The art also shows similar polyomino shapes and three different building types.
Yet this version can play a wider range of 1-6 players and features a smaller (and presumably cheaper) box of 12 episodes rather than 24. The major question is: How will the roll & write aspect of the game change things up? Will we see new dice introduced across the four chapters? I'm normally not one to get excited about a roll & write, but I'll make an exception for the follow-up to My City.
Why it's exciting: Those who play Knizia dice games would largely agree that Knizia understands how to make the most of dice. The man even wrote an entire book on dice games, for crying out loud! So the introduction of dice to the My City system means that these 12 episodes will likely have all kinds of new tricks up their sleeves.
---
Crescent Moon
Expected Release Date: 2022
If a meaty expansion to Sidereal Confluence isn't enough for you, then perhaps you'll be able to satisfy your negotiation cravings with Osprey Games' ambitious Crescent Moon. This mammoth design apparently takes 2.5-3 hours to play and can only be played with 4-5 players. You'll take on the role of a wildly asymmetric character who has unique objectives, actions, and powers in an area control competition of alliances, rivalries, and negotiations. Based on that description, fans of Cole Wehrle designs should take note.
Why it's exciting: From a publisher standpoint, putting out a game with such a narrow target audience (groups of 4-5 players who enjoy meaty, asymmetric games) is a tricky proposition. What this tells me is that publisher Osprey Games really believes in this project enough to take such a risk. Combine that with the fact that they've been putting out some excellent games recently (Undaunted, Brian Boru, etc.) and suddenly this one has the potential to be something truly special.
---
Ra
Expected Released Date: 2022
Reiner Knizia fans won't have to wait too much longer for one of his most popular classics to make a triumphant return. We've finally seen a magnificent box cover from artist Ian O'Toole, and that's only the tip of what's bound to be an iceberg of stunning visuals and clean graphic design. We also know that 25th Century Games is aiming to make this the best production of Ra ever. So whether you own and love this fantastic push-your-luck auctioning design or not, the latest version of Ra should be on your radar.
Why it's exciting: A new version of Ra illustrated by Ian O'Toole is like the Spider-man: No Way Home of board game team-ups. They're bringing back a classic, critically acclaimed, beloved experience (Doc Oc, Green Goblin—Reiner Knizia's Ra) and pairing it with something popular and exciting (Tom Holland's Spider-man aka Ian O'Toole).
---
The Queen's Dilemma
Expected Release Date: 2022?
If you've played the 2020 Kennerspiel des Jahres nominee, The King's Dilemma, then you understand how much work went into this legacy game of tug-of-war politics. Thus, it's understandable why The Queen's Dilemma has been announced but not given a release date. The big change here is that the tug-of-war resource tracks from the King's Dilemma are being replaced with a kingdom map where players control regions, gather resources, and develop their areas. I can't wait to see how this game of tense voting and impactful decisions is taken to the next level.
Why its exciting: For folks who were underwhelmed by the mechanical side of The King's Dilemma—dragging resource tokens up and down a track—The Queen's Dilemma seems to be aiming for a more ambitious area control + Euro experience. Beyond arguing and debating how the kingdom should be run, players will now get to see their decisions take effect on a map and feel even more invested in their slice of domain.
---
Fit to Print
Expected Release Date: 2023
While Fit to Print is not scheduled to release until 2023, it's worth noting here because the game is coming to Kickstarter this year. Beyond coming from the increasingly popular creators of Calico, Cascadia, and Tiny Towns, Fit to Print caught my eye with the whimsical artwork by Ian O'Toole. One of my favorite movies of all time is Wes Anderson's Fantastic Mr Fox., and this game box gives me very fantastic vibes of the fox variety. Mr. Fox himself even works for a newspaper, so the game's theme is obviously a warm (and welcome) nod to that delightful stop-motion animation movie. Players will be racing to arrange the best front page of their newspaper in this real-time spatial puzzle game.
Why its exciting: For many gamers, Flatout Games have been on a hot streak of attractively approachable yet engaging publications, and Fit to Print is set to continue that streak. Bringing in a design from the creator of Tiny Towns seems like a perfect match here, as Tiny Towns shares much in common with Calico and Cascadia. If you love any of these games, then Fit to Print should certainly be on your watchlist.
---
Amun-Re: 20th Anniversary Edition
Expected Release Date: 2023
Amun-Re: 20th Anniversary Edition is another new reprint of a Knizia auctioning classic, and it's likewise an upcoming 2022 Kickstarter that won't hit tables until 2023. But even 20 years on from its initial publication, it remains strongly ranked in the top 500 games of all time on BGG. This new version will see the classic team up of Vincent Dutrait art with Reiner Knizia gameplay plus 3 entirely new expansions.
Why its exciting: I recently acquired an older copy of Amun-Re and it has proven to be a solid design that has been worth keeping around. It's a mark of a good Euro when I'd often rather play it over other Euros that are up to 20 years newer. That said, Amun-Re has widely been regarded as a game that is good for primarily 4-5 players. It sounds like publisher Alley Cat Games is aiming to improve the experience at lower counts with the help of an expansion, and that is certainly something to be excited about.
---
Arcs
Expected Release Date: 2023
While Cole Wehrle was designing his latest ambitious strategy game, Oath, he had many wildly intriguing design ideas that ultimately didn't end up in Oath. Arcs is the space-themed exploration of those leftover ideas set to come to Kickstarter in 2022. It's described as a short campaign game played over a few punchy episodes (or one long session of 3-5 hours) with branching narratives that can be enjoyed across many campaign sessions. It's also easier to teach than both Oath and Root.
Why it's exciting: Arcs approaches the same question that was posed by 2021's excellent Brian Boru: How do you combine trick taking with a strategy board game? According to Cole, Arcs answers this question in a very different (and meaner) way from Brian Boru. Any game that sounds like the love child of Oath and Brian Boru immediately has my attention.
---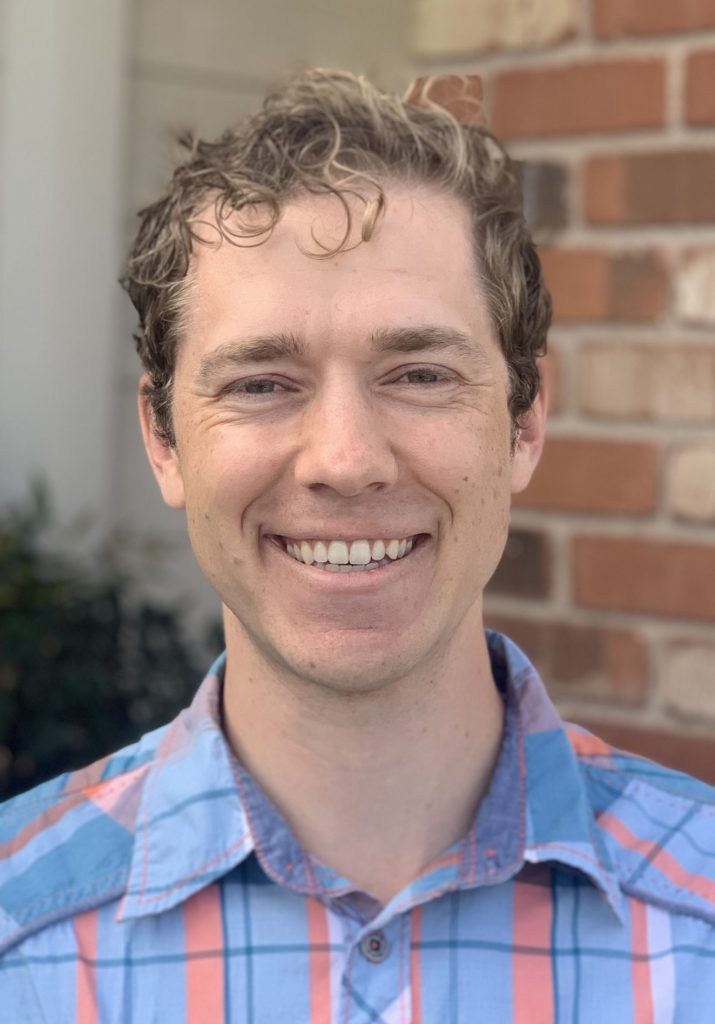 Article written by Nick Murray. Outside of practicing dentistry part-time, Nick has devoted his remaining work-time to collaborating with the world's best designers, illustrators, and creators in producing classy board games that bite, including the upcoming Trailblazers by Ryan Courtney. He hopes you'll join Bitewing Games in their quest to create and share experiences that, much like a bitewing x-ray, provide a unique perspective and refreshing interaction.