Top Board Games of 2019
As I came up with this list, I couldn't deny that 2019 proved to be a killer year for tabletop games. The average quality of game productions only seem to be getting better as creators refine past works and explore new avenues. This single year list contains plenty of contenders for my all-time favorites. I have no doubt that they will be staying in my collection for a long, long time.
Let's dive into my top 10 games of 2019!
---
#10 Azul: Summer Pavilion
The original Azul is one of the 10 games that we recommend everyone try. Azul: Summer Pavilion puts a nice twist on the classic formula and offers more options for scoring and bonuses. If the first two Azuls were too punishing for your tastes, then Summer Pavilion might be right up your alley.
---
#9 Men At Work
If you're looking for a game to dethrone the widely-known Jenga, look no further. Men At Work contains a heaping of precariously balancing bits and a helping of carefully crafted rules that combine into a hilarious stacking game for anyone. It's as much a game of human pride and nimble prowess as it is of lucky tasks and skillful maneuvers.
---
#8 Watergate
Watergate is a game that commands the most unusual of themes, the Watergate scandal, with an engaging set of tug-of-war mechanisms. In this 1v1 game, one person plays as a reporter taking on their opponent, the Nixon Administration. This game with surprisingly simple rules successfully captures some of that same tension that undoubtedly existed between these two parties in the 1970s, although I doubt Nixon had this much fun. Watergate was a no brainer for us to recommend as 1 of 10 games to enjoy amid a quarantine.
---
#7 Q.E.
Q.E. is an auction game that plays by its own rules…. or lack thereof? That's because players can secretly bid absolutely anything they wish each turn. Want to bid 300 dollars? Go ahead! 3 Billion dollars? Why not! Just make sure you don't pay more than everyone else by the end of the game, or you'll be disqualified! What a riot this game is.
---
#6 Wingspan
Wingspan was the first game to wow us in 2019, and it's still a blast to play over a year later. This Kennerspiel des Jahres Winner cemented its place in the history books thanks to its satisfyingly smooth engine building wrapped in a gorgeous package.
---
#5 Mandala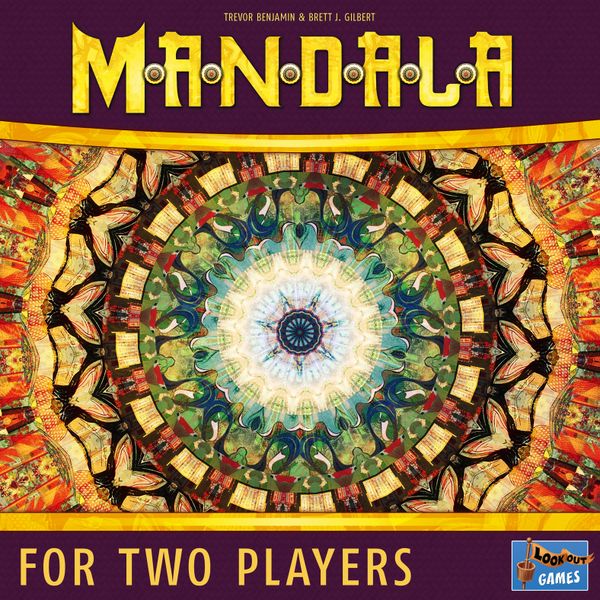 Mark my words, Mandala is on the verge of becoming an all-time great. I'm talking Jaipur, Patchwork, Hanamikoji status. Even just mentioning this game to you makes me itch to go play it again. If you want a 2-player card game that you can get anybody into, Mandala is your jam.
---
#4 Undaunted: Normandy
If you read my post about my most anticipated games of 2020, you may be laughing at me now. In that post, I spoke of Undaunted: Normandy (before I ever tried it) with these famous last words: "I'll wait it out and opt for version 2.0 (Undaunted: North Africa) which will hopefully refine and improve the formula." Boy, I'm glad I lost control of that self-restraint! I have COVID-19 to thank for convincing me to dive into Undaunted: Normandy with my wife; we needed something new and exciting to mix up our stay-at-home routine.
It has been a long time since we've broken out the same game many times in such a short time span. The seductive fun of Undaunted is a testament to its slick gameplay and interesting scenarios. If you enjoy deck-builders like Dominion or Clank!, you owe it to yourself to give this one a try!
---
#3 The Crew: The Quest for Planet Nine
The Crew might very well be as perfect as trick taking games will ever get. This is, without a doubt, one of the most addictive games in our collection. While each round of play lasts an average of 5 minutes, this is a game where one more round isn't even a question, it's an inevitability.
The Crew restricts cooperative quarterbacking due to its clever limits to communication. Each player's hand contains critical contributions that must be timed well for the team to succeed. Meanwhile, it keeps the gates of accessibility wide open with a careful ramp in difficulty from one mission to the next.
---
#2 Wavelength
From our very first play, Wavelength eased its way into my favorite party game of all time. There is something so tantalizing about the possibilities that a spectrum with a hidden target creates. Hands down, this game has created the most hilariously memorable moments of any game night for myself and many friends. If you are looking for a way to celebrate the eventual death of social distancing, there's no better way to do it than with Wavelength.
---
#1 Pax Pamir (Second Edition)
I've never played the 1st edition or any other Pax game for that matter. All I know is that Cole Wehrle took his original design and reimagined it into freaking masterpiece. If you asked my wife, she would say that I have a hard time loving games that I can't win. While I admit that winning is certainly great, I find that the journey is what I love about gaming despite the saltiness that comes with a loss. I still haven't won a single game of Pax Pamir Second Edition, yet I have loved every minute of it and am dying to get it back to the table again.
This tableau-building, area-controlling, loyalty-flopping political game is not for the faint of heart. Pax Pamir is a ruthless game complete with back-stabbing maneuvers and opaque objectives. It's a game that demands multiple plays and rewards deeper exploration. It's an absolute triumph of tabletop design and production that is unlike anything I've ever seen. The Wehrle brothers should be proud.
---
Next Page: Best Expansion, Best Art, Best Production, and Future Contenders